How can we help you find your perfect cover?
4.9 out of 5
LOCKDOWN HABITS DIE HARD? 'NIGHT IN' SPENDING UP BY MORE THAN £20 BILLION DESPITE EASING OF RESTRICTIONS
• Brits spent more than £1,300 on takeaways, TV and alcohol in 2021 - 42% more than during peak lockdown and 60% more than before the pandemic suggesting lockdown habits are hard to break
• Bristolians are the biggest boozers - but at £130 a month, Glaswegians spent the most on alcohol, TV and takeaways combined for the second year running
• Spending on petrol is up by 66% in real terms and 12% as a proportion of spending across the categories, with average spending almost double what it was in 2020
• Retail and grocery spend up 41% and 45% respectively, with a shift away from online and back to in-store
Despite easing of Covid restrictions, Brits spent £20.6bn more on 'night in' staples – takeaways, TV streaming and subscriptions and booze – in 2021 compared to 2020, averaging £1,300 per head, according to the latest research from insurance broker LifeSearch.

LifeSearch looked at spending across 16 categories, including food, entertainment, clothes and retail - and can reveal a 47% (£96.1bn) total increase in actual spending, with huge spikes in the amount spent on health and beauty (61%), petrol (66%), take-out tea and coffee (85%) and in-store retail (68%).
Staying in is here to stay
Brits spent a collective £18.2bn (£344 each) on alcohol in 2021, £5.7bn more than during the 2020 lockdown, with 15% of Brits admitting they drank more in 2021 than they did the year before.

Furthermore, almost a third (29%) of respondents said they comfort ate more in 2021 than in 2020, which is mirrored in the £7 increase on spending on takeaways per month by the average Brit. This, combined with the fact that 39% of people say they are watching more TV than during 2020's lockdowns, also supports the theory that 'a quiet night in' is now a choice rather than a necessity.

Emma Walker, Chief Marketing Officer at LifeSearch who commissioned the study said: "Last year we found that spending had increased on the previous year, with particular spikes on things that could be done under restrictions - so takeaways, TV and so on. We expected this year to see spending figures drop, or at least remain stable, as restrictions lifted and people were given freedom to go out again but instead we have seen spending on 'night in' staples go up significantly. Part of this could be down to rising costs but spending has increased so much – by £32 (42%) on average per person per month on TV, takeaways and alcohol combined – it suggests that lockdown habits are hard to break.

"At a time when the cost of living in the UK is at its highest level in 30 years, many may find that habits have to be broken in the months ahead, cutting back on little luxuries to pay for daily essentials such as food, energy and petrol."
Back to the shops - in our cars
The LifeSearch research also found that the other areas where spending has risen significantly are on petrol, take-out tea and coffee and health and beauty products, suggesting that people started driving again, ventured out more to buy coffee on-the-run and pampered themselves as restrictions began to ease.

Spending on fuel was not only up on last year (by £19 a month per person) but now accounts for 10% of the total spent across the 16 areas, up from 9% in 2020, suggesting that petrol price rises have also had an impact.

And while retail spending (online plus in-store) is up by £21 per month per person overall, in-store spending saw a bigger hike than online (68% compared to 18%), and now accounts for a higher proportion of overall spending; in 2020 it was the other way around.

Due to supermarkets remaining open throughout the pandemic, spending on in-store grocery shopping remained high, increasing by £29, which could be down to price increases, as well as the shift away from online. Spending on online groceries did increase, but by much less (£10) and has dropped from 9.6% to 8.6% as a proportion of overall spending across the categories.
Figure one - consumer spending in 2021 vs 2020 and 2019: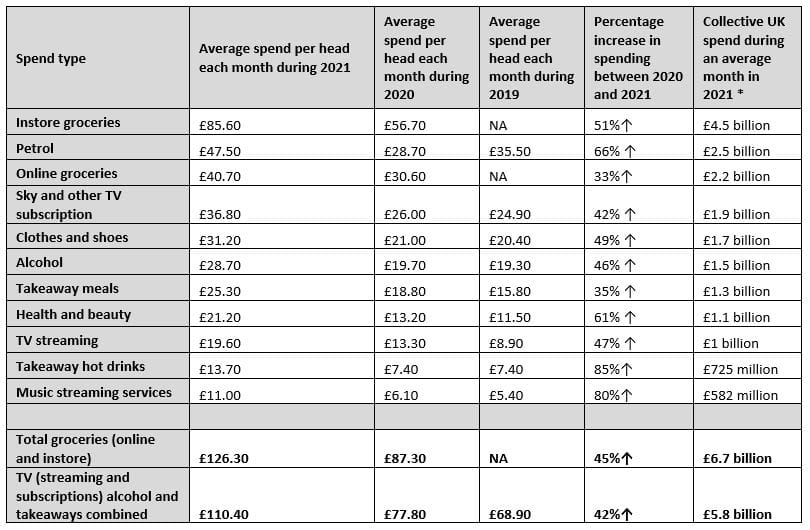 Men spent more on everything except health and beauty
When it comes to the different ways in which men and women spend their cash, LifeSearch found men spent more than women in every area accept health and beauty, and considerably more on booze (£35 per month compared to £22 for women), TV (£62 vs £51) and music, film, TV and game downloads (£6 more per month).
In terms of age groups, under 35s spent much more than other age groups - most notably takeaway food (£39 a month), clothing (£42) and music streaming, which at £22 a month is double the UK average. Areas where under 35s spent less than older age groups include petrol and instore groceries, which, incidentally, was the only area over 55s spent more than any other age group. On average, over 55s spent £94 a month in grocery stores compared to just £67 for under 35s.
The regional picture
People from London spent the most on takeaways - £32 a month, while people in Edinburgh spent the least at just £12 (£4 less than they spent each month the year before). People in Glasgow spent the most on TV (£68 combined on streaming and subscriptions) while people in Bristol were the biggest boozers (spending £20 more a month than people in Cardiff, who spent the least) - and gamblers (£18 a month).

Overall, it was Glasgow – for the second year running – that spent most every month, per person on TV, takeaways and booze combined at £130, followed by London (£126) and Sheffield (£120), while people in Edinburgh (£78), Norwich (£83) and Nottingham (£85) spent the least.

In terms of other spending, people in Birmingham spent the most on clothes (£39), in Liverpool the most on grocery shopping in store (£98) and London on grocery shopping online (£47). Londoners also spent the most on health and beauty at £28 per person, while at £11 per month, people from Edinburgh spent the least. The city that spent the most on DIY and home improvements was Belfast - £442 over the year per person, compared to a UK average of £320.
- Ends -
NOTES TO EDITORS

The consumer research was carried out by Opinium Research between 21-25 January 2022 among 2,000 UK adults alongside bespoke research among 502 ethnic minorities in the UK, weighted to be nationally representative, between 21-26 January 2022.

*Scaled up UK-wide calculations based on UK population numbers of 52,673,000 UK adults in 2019 and 52,890,000 in 2020 & 2021.

For further information, please contact:
Karen Mignon / Kevin Carr, Carr Consulting & Communications
Email: karen@carrcandc.co.uk / Tel: 07766 651327
Email: kevin@carrcandc.co.uk / Tel: 07887 838811

About LifeSearch
Over nearly 23 years, LifeSearch has grown into the UK's biggest life insurance specialist, offering expert, independent advice to customers around life insurance, critical illness cover, income protection, family income benefit, serious illness cover and business insurance. Over our two-plus-decades, LifeSearch has picked up dozens of awards for company culture, expertise and customer service. We have a TrustPilot score of 4.9 out of 5 (excellent) and came Top #3 in our debut appearance on the Sunday Times' list of Best Places to Work in the UK – www.lifesearch.com.
LifeSearch have been protecting the life you love since 1998. We've protected over 1 million of families in our time. Read our views and opinions on the latest industry news, and what we have to say on all things Health, Wealth & Happiness. Our content is brought to you by LifeSearcher's and guest writers.

See all articles by LifeSearch

Wealth
HWH 2023 Press Release
Brits are forced to raid savings, borrow from family and cut down on hot meals to make ends meet
16 May 2023, by LifeSearch
10 min read

Wealth
HWH 2022 Part 2 Xmas Press Release
Women to spend £7.3 billion less this Christmas at an average of £310 per head, vs £266 by men
24 Nov 2022, by LifeSearch
7 mins

News
LifeSearch partner with 2plan Wealth Management
LifeSearch announces partnership with 2plan Wealth Management
21 Nov 2023, by LifeSearch
3 min read