How can we help you find your perfect cover?
4.9 out of 5
THIRD OF ALL BRITS SUFFER FRIENDSHIP FALL-OUTS OVER LAST TWO YEARS DUE TO COVID PRESSURES, LOSING FOUR RELATIONSHIPS ON AVERAGE
One in three Brits have fallen out with friends and family since the start of the pandemic, rising to half of under 35s
68% of people who say their mental health improved "a lot" in 2021 fell out with friends or relatives, averaging 6.9 friendships
More than half of Brits have formed stronger friendship bonds during the pandemic – averaging 4.3 people among this group on average
Half of those from ethnic minority groups have lost friends, but three-quarters have formed stronger bonds
One in three Brits (32%) has fallen out with friends or relatives due to stress and pressures relating to the Covid-19 pandemic, rising to over half (55%) of younger people aged 18-34, reveals new consumer insights from LifeSearch.
As the two-year anniversary of the first UK lockdown is marked this week, the research identifies the impact the pandemic has had on Brits' relationships with family and friends; as polarised views on issues from social distancing, mask-wearing and vaccines have taken their toll.
On average, adults in the UK who have fallen out with friends and family have shed 4.3 relationships since the pandemic began, rising to 5 relationships among men (vs 3.6 among women). However, of those that have fallen out with friends and family:
Young people (55%) aged 18-34 have shed more friends than any other age group, averaging 4.5 each, vs 3.5 among over 55s
21% of people aged 18-34 have shed five or more friendships due to Covid over the last two years vs just 3% of those aged 55+ (10% of all Brits and 15% of men have lost 5+ friendships)
48% of people in ethnic minority groups (rising to 61% of Pakistani/Bangladeshi Brits) have seen relationships break down, averaging 5.4 each (6.4 among Bangladeshi/Pakistani Brits)
However, while Covid may have led to relationship breakdowns, it has also led to many Brits cementing some stronger relationships too. LifeSearch, the UK's leading life insurance broker, found that more than one in two Brits (55%) have formed stronger bonds with friends and family since the pandemic began, making as many stronger friendship connections as those they've lost due to Covid fall-outs.
On average, Brits who formed better relationships during the pandemic have 4.3 stronger connections per person, rising to 4.5 among men (vs 4.1 among women) and 4.6 among those aged 18-34.
London – the capital of friendship shake-ups
While London is the de-friending capital of the UK, as 49% have fallen out with at least one friend or family member for an average of 5.3 lost friendships in the pandemic, over two-thirds (69%) of Londoners also claim to have boosted some relationships too; forming stronger relationships with 5.4 people on average in the last two years.
It also seems that the more money Brits' earn, the more likely it is they've tossed friendships aside, with 56% of the survey's highest income group (£100,000+) dropping relationships at an average of 7 friendships each. But again, on the flipside, 73% have strengthened friendships, averaging 5.9 people.
Friendship fallouts equates to improvement in mental health for some
Interestingly, those who've seen the greatest convalescence in their mental health may have abandoning certain friendships to thank for it. Over two-thirds (68%) of those who feel their mental health improved "a lot" in 2021 discarded an average of 6.9 friendships in that time.
Emma Walker, Chief Marketing Officer at LifeSearch who commissioned the study said: "The last two years has put some incredible pressures and stress on people that has tested the strength and validity of relationships with those closest to us. We've all had to adapt to a very different way of living and Covid restrictions – from vaccines to mask-wearing – have created some very polarised views; enough that some have chosen to walk away from relationships with family and friends.
"Yet, in this time of adversity many have also formed stronger bonds or made new friends. In fact, one silver lining is that on average we've made just as many good friends as we've lost."
Three-quarters (75%) of people from ethnic minority groups have formed stronger bonds, and while those who have fallen out with friends and family may have binned 5.4 friendships, they've made or strengthened 5.1 friend relationships on average. More specifically among the Pakistani/ Bangladeshi communities, 61% have lost friends during the pandemic, calling a day on an average of 6.4 friendships, but have replaced them – with 85% gaining 5.6 stronger friendships.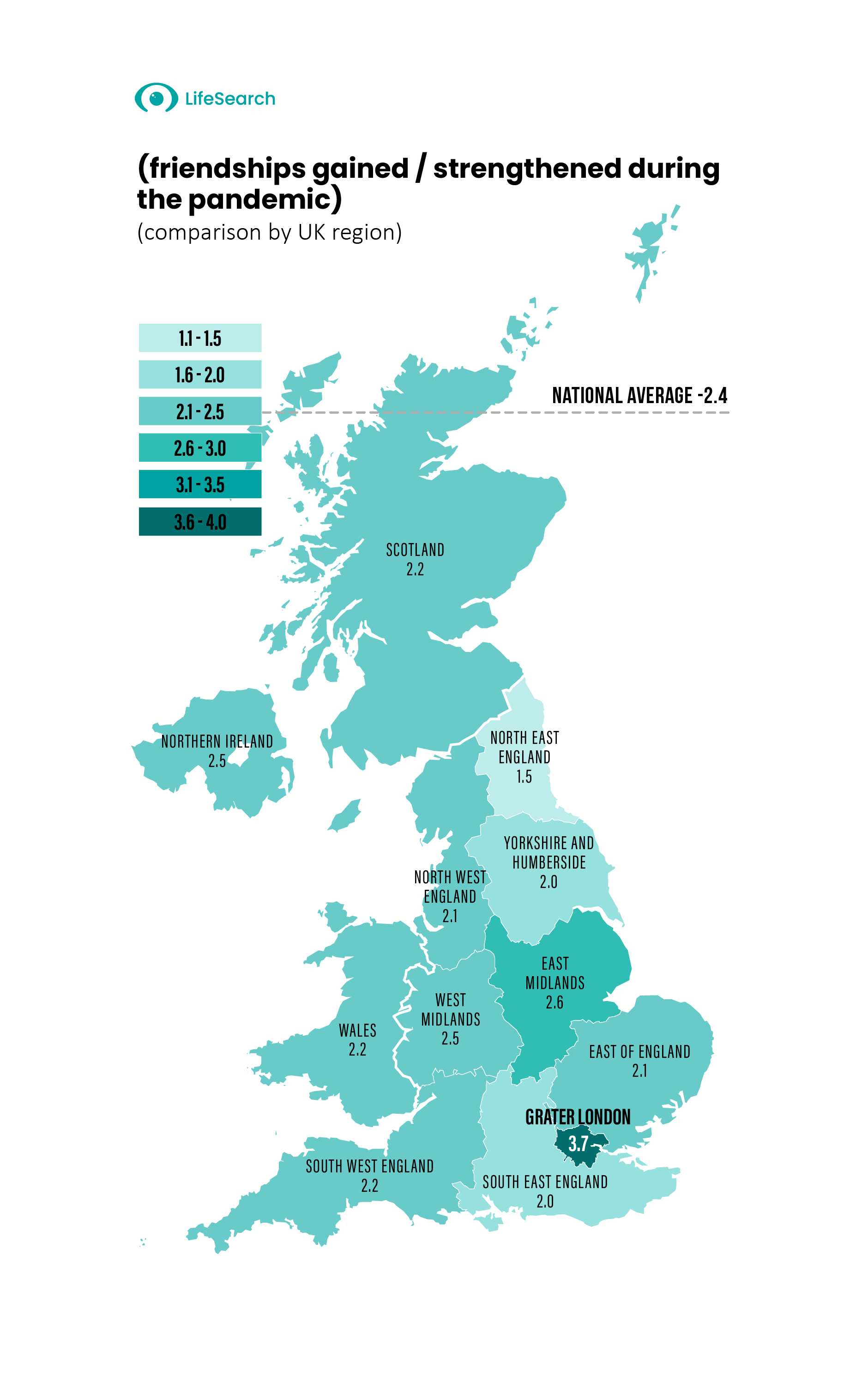 - Ends -

NOTES TO EDITORS
The consumer research was carried out by Opinium Research between 21-25 January 2022 among 2,000 UK adults alongside bespoke research among 502 ethnic minorities in the UK, weighted to be nationally representative, between 21-26 January 2022.


For further information, please contact:
Karen Mignon / Kevin Carr, Carr Consulting & Communications
Email: karen@carrcandc.co.uk / Tel: 07766 651327
Email: kevin@carrcandc.co.uk / Tel: 07887 838811

About LifeSearch
Over nearly 23 years, LifeSearch have grown into the UK's biggest life insurance specialist, offering expert, independent advice to customers around life insurance, critical illness cover, income protection, family income benefit, serious illness cover and business insurance. Over our two-plus-decades, LifeSearch has picked up dozens of awards for company culture, expertise and customer service. We have a TrustPilot score of 4.9 out of 5 (excellent) and came Top #3 in our debut appearance on the Sunday Times' list of Best Places to Work in the UK – www.lifesearch.com.
Sophie began as a Protection Adviser at LifeSearch in 2017, helping customers to Protect the lives they love. She now brings her experience to Protection Content within the Marketing team. Sophie's a passionate Street Dance teacher in her spare time, and teaches children and adults all the right moves.

See all articles by Sophie Cussons