How can we help you find your perfect cover?
4.9 out of 5
£128 - Britain's financial tipping point
It's a bleak question. But we polled our nationally representative survey to find out their exact financial tipping point:
By how much more do your core bills have to rise before you'll struggle to pay them?
Depressingly, one in eight (12%) nationwide say they're already there. This rises to 15% of females and 17% of 35-54s. More than one in five people (21%) in Wales say they've already reached that level. A similar level (22%) of single parents say the same, as do more than one in four (28%) Brits who rent a property from their local authority.
In pounds and pence, the average Briton says that if essential bills go up by £128.20 they'll struggle.
Less for women, single parents and council tenants
For the average male, the tipping point figure is £145.70, nearly £35 more / better than for the average female (£110.90). The situation is more precarious still for 18-34-year-olds who say essential bills need to rise just £101.70 before meeting them becomes a struggle.

For the average single parent, a rise of £86.30 will make the difference and for the average local authority renter, the tipping point figure is just over £63.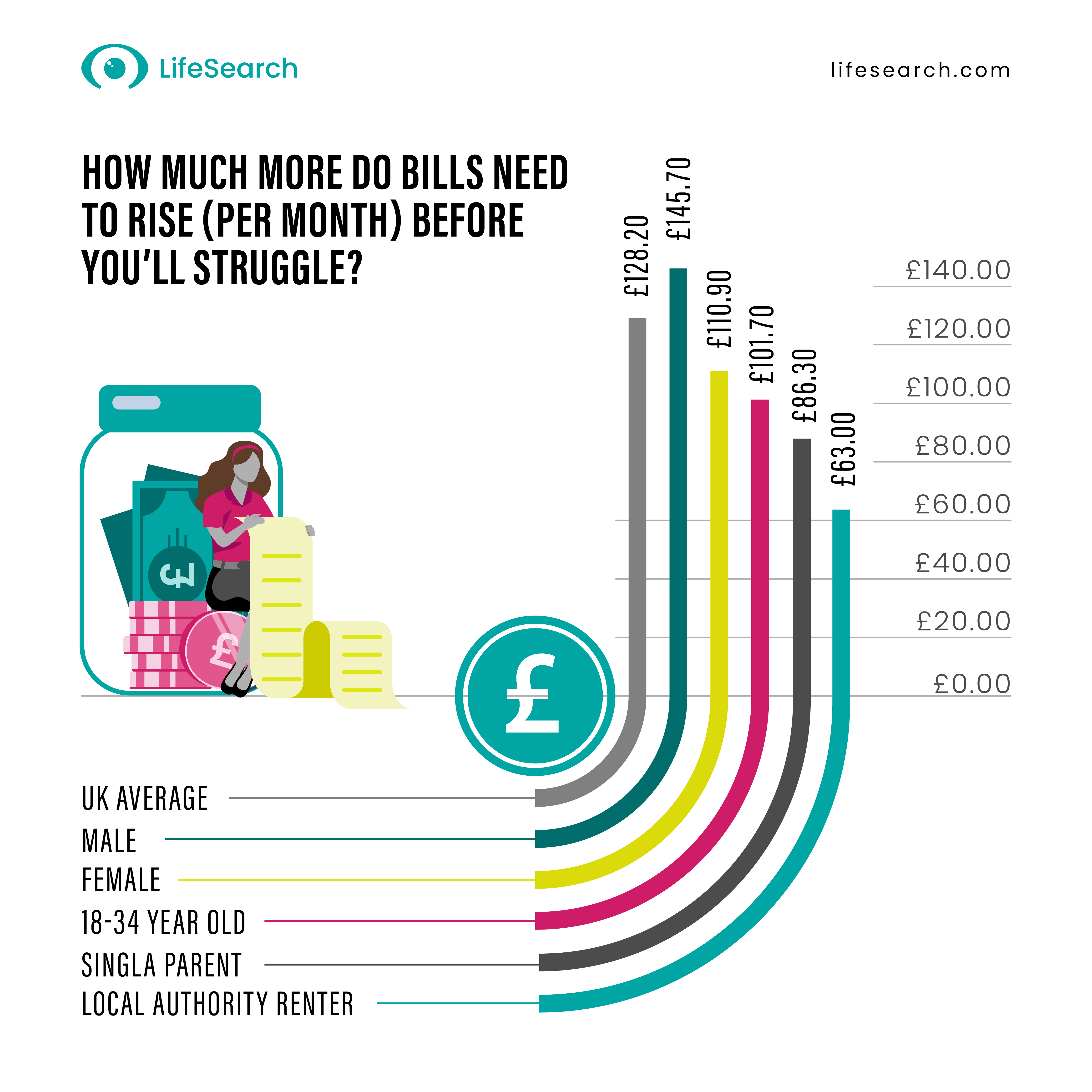 The basics under threat
Probing further, we asked Brits to gauge the likelihood of various scenarios as the squeeze continues.

On property, we asked how likely it'd be that they'll be unable to pay their rent or mortgage this winter and it's incredibly alarming to read that 40% of 18-34s say this is likely, as do one in four (25%) in the 35-54 age category.

As a response, an equivalent percentage (42%) of 18-34-year-old home owners say that selling their home, or releasing the equity in it, is a likely scenario, as do 17% in the 35-54 age range.

As in crises past, the data points at how younger folks (18-34s) are bearing a lot of the weight of the cost-of-living crisis. When asked if it is likely that they'll struggle to pay for food, 47% in this (18-34) age category say it is and 13% of this total say it is very likely.

That's quite a gap from the national average figure, where just over one in three (34%) say it's more likely than not that buying food will become a struggle. The likelihood of being unable to afford childcare also increases in this younger age category too. Once again, approaching half (47%) say it's likely childcare could become unaffordable, with 20% in the same age group saying that it's very likely.

Continued car use looks precarious for younger people too. Across all demographics, one in three (33%) say it's likely they'll struggle to run a car through winter, but this increases to nearly half (48%) of 18-34s.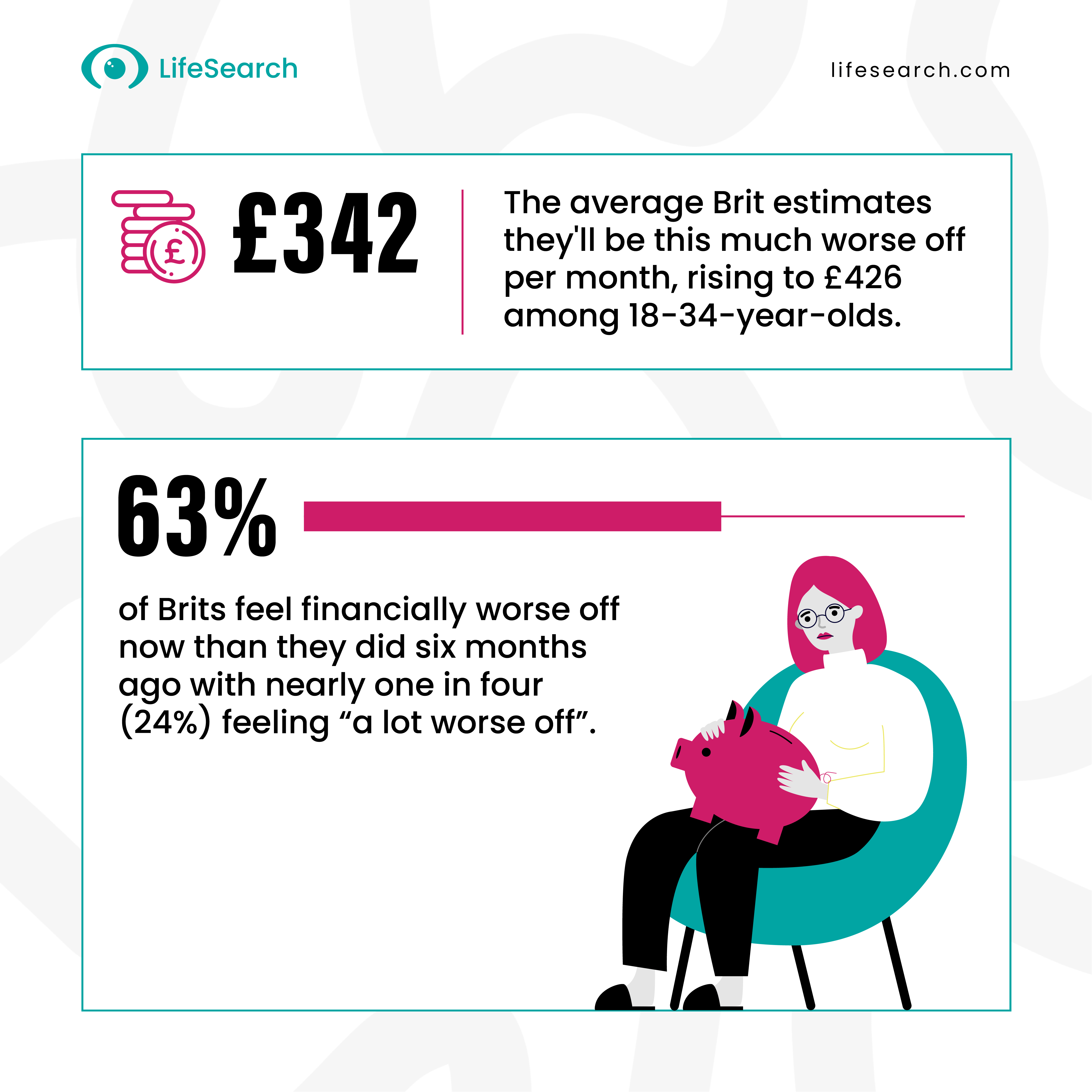 The London premium
Another interesting one to pull out: when looking at those who think it likely they'll struggle to afford childcare, we see a fairly consistent spread across the UK's regions. But there's one outlier: London.
In the capital, over half (54%) say it's likely that childcare costs will become a struggle. Compare this to one in four (26%) in Wales and just one in five (21%) in Northern Ireland and what was once called the 'London premium' looks set to force more tough decisions.
What also comes through in the data is how much the cost-of-living crisis is impacting people high up on the
income
chain. Further up than we saw following the global financial crash of 2007/8.
For example, one in five (22%) top earners (£100,000 p/a) predict that they may also struggle to cover their food bills.
Further reading
To explore the ways in which different UK demographics, regions, households and families are under pressure, you can read blogs stemming from the
Health, Wealth & Happiness Hub
, or you can
read the report in full.
Sophie began as a Protection Adviser at LifeSearch in 2017, helping customers to Protect the lives they love. She now brings her experience to Protection Content within the Marketing team. Sophie's a passionate Street Dance teacher in her spare time, and teaches children and adults all the right moves.

See all articles by Sophie Cussons