How can we help you find your perfect cover?
4.9 out of 5
Income protection vs critical illness
Income protection and critical illness cover are two life insurance products that often get compared. This is arguably because they both pay out whilst you're still around to make use of that money, as opposed to life insurance, which only pays out when you pass away. They also both focus on a similar scenario - becoming seriously ill or injured.
Despite these similarities, however, income protection and critical illness have a lot of differences. When deciding which one you are best suited to, it's important to do a bit of research and get to know the in's and out's of them both.
Let us guess - you don't have the time to be trawling the web researching these insurance products, right? Well fear not - we have done all the hard work for you and are here to talk you through it in this handy guide.
Critical illness or income protection?
Ah, the age-old question. Let's look at the type of person who would be best suited to critical illness cover. Perhaps they are not actually in employment. Perhaps they are employed but desire a bigger payout than just a percentage of their salary each month.
In these instances, critical illness cover would be the better choice. It pays out in one large lump sum and the focus is on the illness or injury that you are diagnosed with, as opposed to your inability to go to work. It's well suited to paying off debts, such as a mortgage or the lump sum could be used towards adapting your home.
Income protection, on the other hand, would best suit someone looking for regular monthly payments - a percentage of their usual salary - to keep life ticking over as normal if you cannot go to work due to illness or injury. It's best suited to paying ongoing bills, everyday costs and any extra costs you might find yourself needing to cover, such as healthcare and/or specialist equipment (a wheelchair or stairlift for example). Unlike critical illness cover, the focus with income protection is being unable to work due to illness or injury, as opposed to being diagnosed with a particular illness or injury.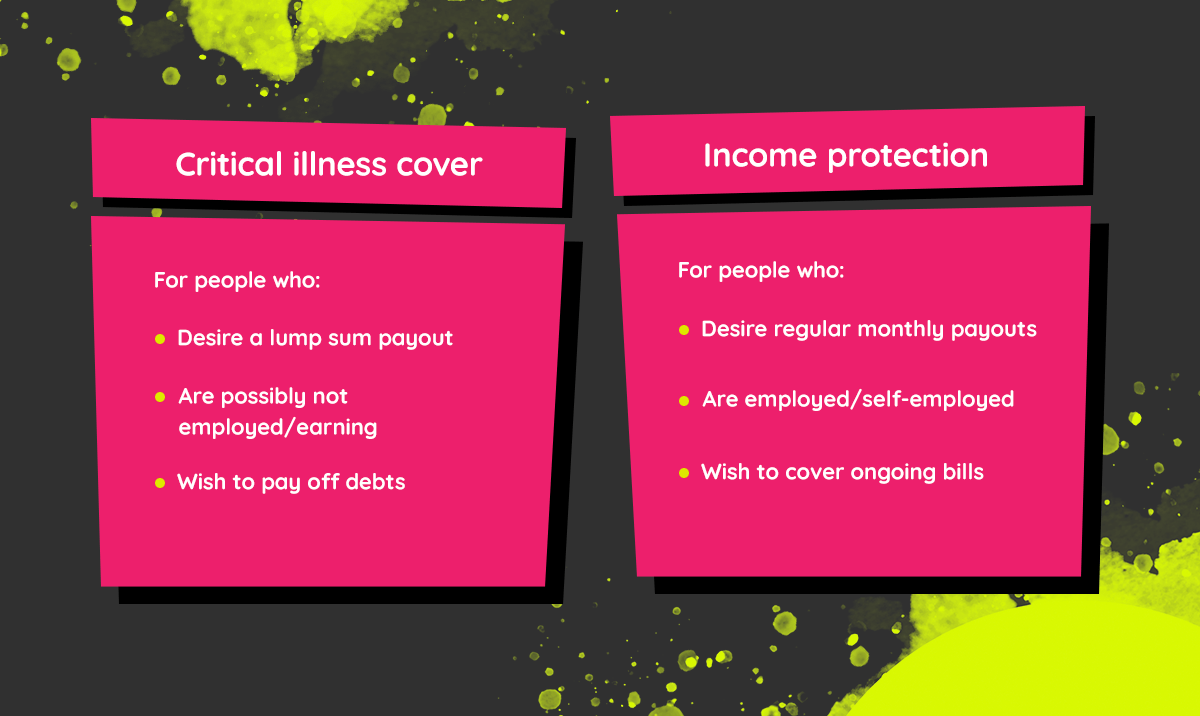 When pitting the two against each other, critical illness cover is generally the more popular option. This is probably down to some people preferring a lump sum payout over regular chunks, and critical illness cover is often sold as an add-on to life insurance.
Unfortunately, the reputation of income protection has wrongly suffered over the years with comparisons to the infamous Payment Protection Insurance (PPI)1, which proved itself as the largest consumer redress scheme2 in British history. Income protection is also more difficult to underwrite than critical illness cover, as it covers a much broader range of issues. That being said, income protection is often described as the one protection policy that every working adult in the UK should consider.
Do I need critical illness and income protection?
In an ideal world, you would have the budget to take out both a critical illness policy and an income protection policy as they are both equally important and provide different types of protection for you and your family.
One example of how they can work together is that your critical illness cover payout could pay off the mortgage if you become seriously ill or injured, and your income protection payout could cover the household bills that will still need paying. After all, there's no point paying off the mortgage if you cannot then afford to live in the house!
At LifeSearch, we sum it up like this:
"Critical illness cover exists to give families the hope they need to make a recovery and look after debts and liabilities. Income protection exists to secure families the time to make a recovery."
We do understand that for most people, taking out both critical illness cover and income protection isn't financially realistic. Plus, there are a few crossovers between the two products that may put many people off taking the two out side-by-side.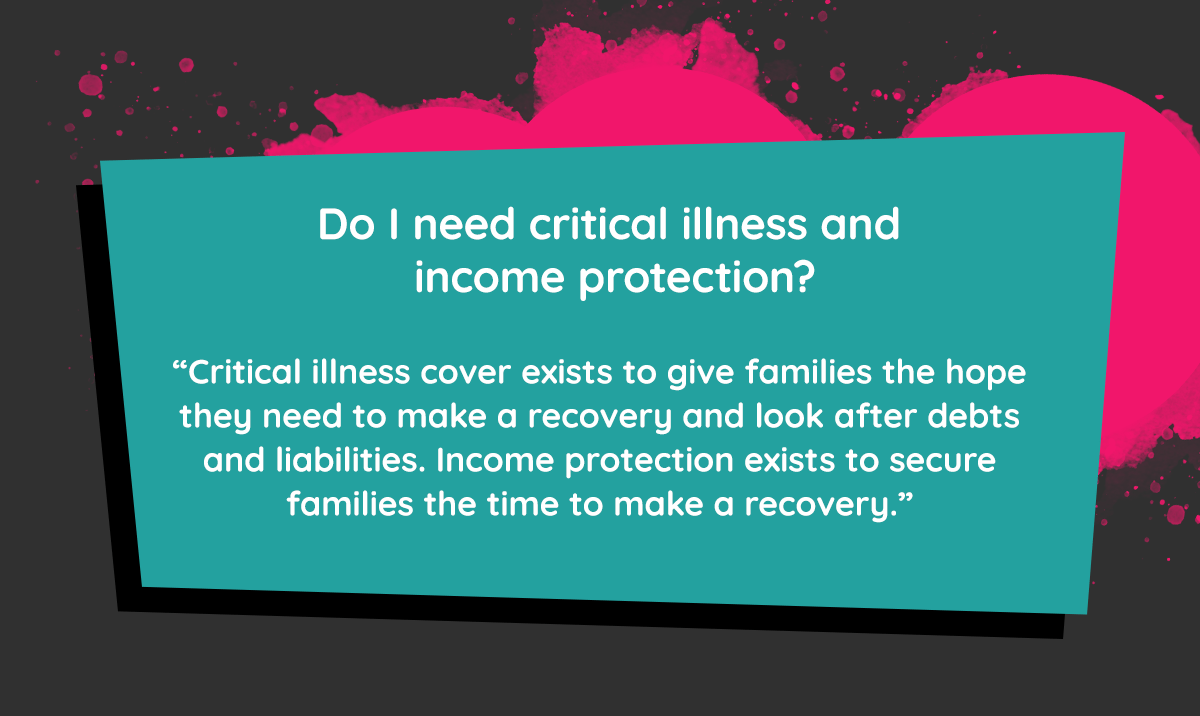 For instance, both products share the following features:
Coverage for illness
Direct payouts, giving you the freedom to use the money how you wish
Tax-free payouts (aside from when an income protection policy is part of an employer scheme, in which case they are taxed as normal)
Exclusions, such as illnesses arising from alcohol and drugs, pregnancy-related conditions and pre-existing conditions
Despite their similarities, however, it's really important to note that they do cover different things. For instance, the top three most common reasons for an income protection claim3 are:
Accidents - 20% of claims
Muscular skeletal injuries - 20% of claims
Psychological issues (stress/depression) - 20% of claims
You won't find any of these three issues covered on a critical illness policy. In a nutshell, income protection covers pretty much all medical conditions as opposed to critical illness cover which comes with a list of insured illnesses. Of course, income protection comes with its exceptions (such as pre-existing conditions and self-inflicted conditions), however, the important factor when making a claim is simply whether or not you can go to work.
With these differences in mind, income protection and critical illness cover complement each other, rather than replace each other. It's often a good idea to take out a little of each.
Combined critical illness cover and income protection
It is not actually possible to combine both insurance products on one policy. Critical illness cover is often seen combined with life insurance, but generally speaking, you can't combine income protection with other insurance products.
Here is a simple breakdown of the main differences between critical illness cover and income protection: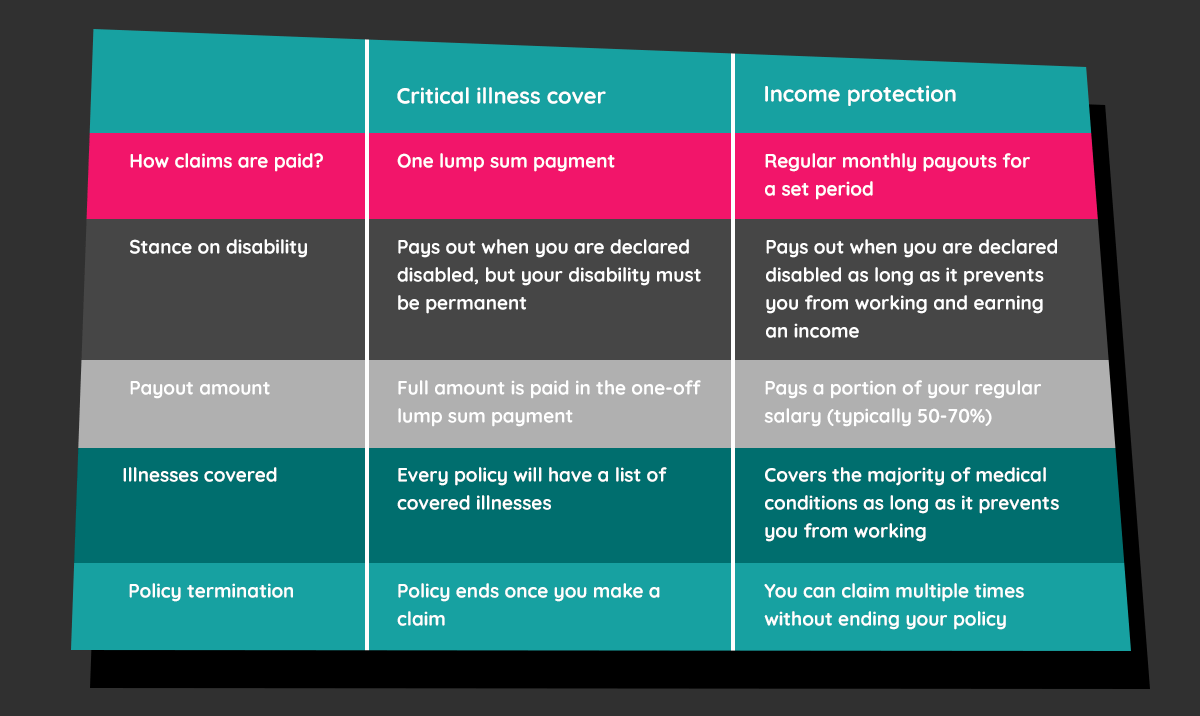 Income protection pros and cons
We've talked a lot about how critical illness cover and income protection compare. Now let's just focus on income protection - specifically, the pros and cons.
There are many pros to income protection. It's fair to say that the majority of people reading this probably have a job - whether employed or self-employed - and as a result, have an income to protect. This makes income protection an incredibly important insurance product.
This becomes even more true if you have large financial responsibilities, such as a mortgage. If you can't pay your mortgage, you risk losing your home. Despite this, only 20% of homeowners in 2019 had income protection4 in place. This is a worrying statistic, given that research shows that you are around five times more likely to be ill and unable to work5 than you are to pass away.
Income protection helps you and your family to maintain your current standard of living, even when everything in your world gets turned upside down. This means that even if you are not working, your children needn't miss out on those after-school clubs, hobbies or school trips. Perhaps you will still be able to afford weekend treats or holidays - both things that are probably the first on the list to be scrapped when cash is tight.
Additionally, your illness or injury does not need to be work-related in order to be able to claim on it. Whilst you may receive benefits if you get injured at work, income protection covers you 24/7.
If you make a successful claim and are granted your payout, the regular payments mean that it is simple and easy to manage your money month-to-month. The lump-sum payout associated with a critical illness policy can be overwhelming for many, but the bite-size chunks of cash you receive with income protection make budgeting simple.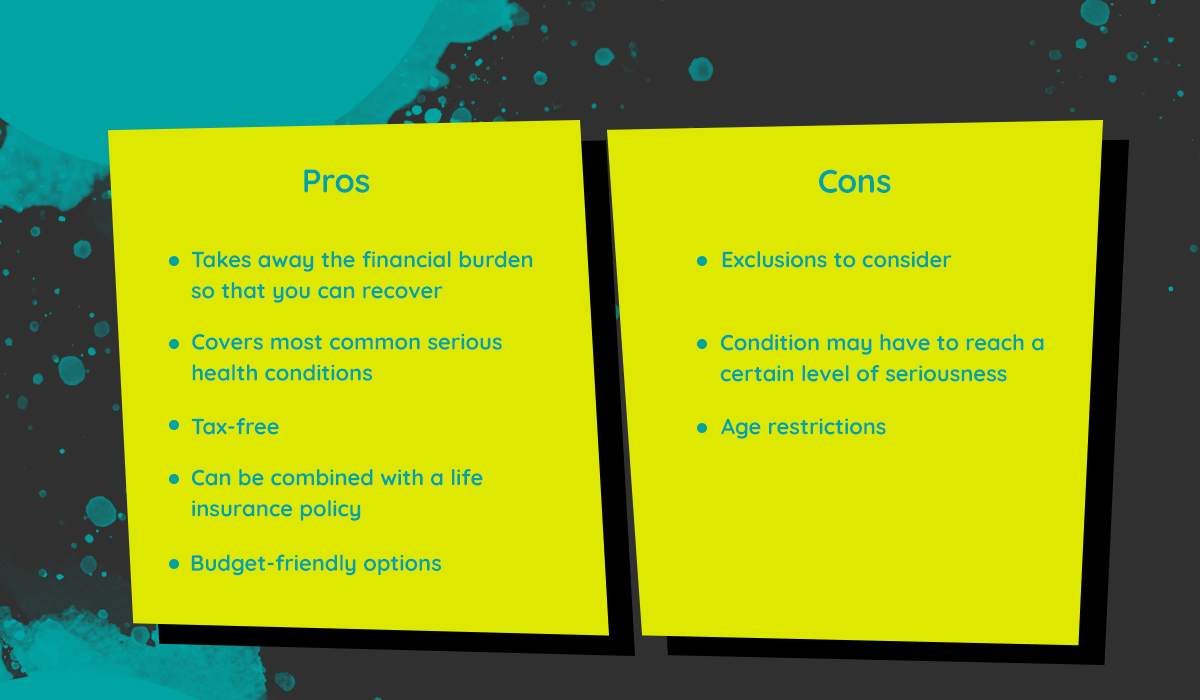 As with any insurance policy, there are things to be aware of. For instance, most income protection policies will come with a deferral period. A deferral period is a period of time (you choose how long when you take out your policy) that must pass between making a claim and receiving your payouts. This could be as long as you choose, however they are typically between 30 - 90 days.
During this deferral period, you'll need a backup money plan to tide you over until your payouts kick in. This could be dipping into any savings you have set aside or Statutory Sick Pay (SSP) from your employer. It's really important to factor this deferral period in. The good thing about deferral periods is that the longer they are, the cheaper your premiums will be.
Although income protection covers a broad range of eventualities that prevent you from working, it also comes with exclusions. Along with pre-existing medical conditions, income protection may also not cover you for back pain or illness or injury that could have been avoided should you have followed medical advice. It also won't cover anything self-inflicted such as alcohol and drug misuse or a criminal act.
Pregnancy is also not included, so you can't claim to receive more money during maternity leave. However, you may be able to claim for pregnancy-related complications. War and cosmetic surgery-related illnesses and taking part in dangerous activities without the right equipment or training may also be excluded. Essentially, if it's not a total unforeseen accident, then you'll struggle to make a claim on it.
Income protection also does not cover you for redundancy, or if you get fired. Illness and injury is the key here. That has to be the reason that you are out of work. The only instance where you might receive a payout is if you are made redundant whilst you are out of work with illness or injury and receiving income protection benefits from an ongoing claim. This differs between policies, so it is always worth checking with your provider.
Lastly, income protection may not be suitable if you are on a low income. If you are on a low income and you take out a policy that covers 50% of your salary, your benefits may struggle to tide you over whilst you are out of work. It's important to be realistic and weigh up whether the monthly commitment of paying the premiums will be worth the result if you ever did need to make a claim.
Critical illness pros and cons
Let's now take a closer look at critical illness cover and the pros and cons. The biggest pro of critical illness cover no doubt is that it covers you against something that nobody wants to go through; getting diagnosed with a specified serious illness or injury.
You might think it will never happen to you but life expectancies in the UK are on the rise6 each year. We're living longer than ever and whilst this gives us many more treasured years and moments with our families, it also means that we are likely to develop various health conditions as we grow older. Critical illness covers some of the most common serious health conditions and takes away the burden of those financial responsibilities and allows you to take time out to recover by providing that tax-free lump sum payment.
Critical illness cover can also pay out if your children get seriously ill. It's every parent's nightmare, but should it happen to you and your family, a critical illness cover payout when you are in need of the extra cash for healthcare, equipment and perhaps a loss of income due to being out of work can be totally invaluable.
Critical illness cover can be combined with a life insurance policy. Critical illness cover will be here for you whilst you're still around and in need of a helping hand, whilst life insurance will protect your family with a payout should you pass away.
If you need to keep a tight hold on the purse strings, critical illness cover as a standalone product could be more budget-friendly, and there are some really affordable policies out there on the market. That being said, you may get what you pay for. There's no use paying monthly for a cheap policy but then finding it has so many exclusions that you will struggle to ever claim. Generally speaking, the more you can pay in premiums, the more will be included.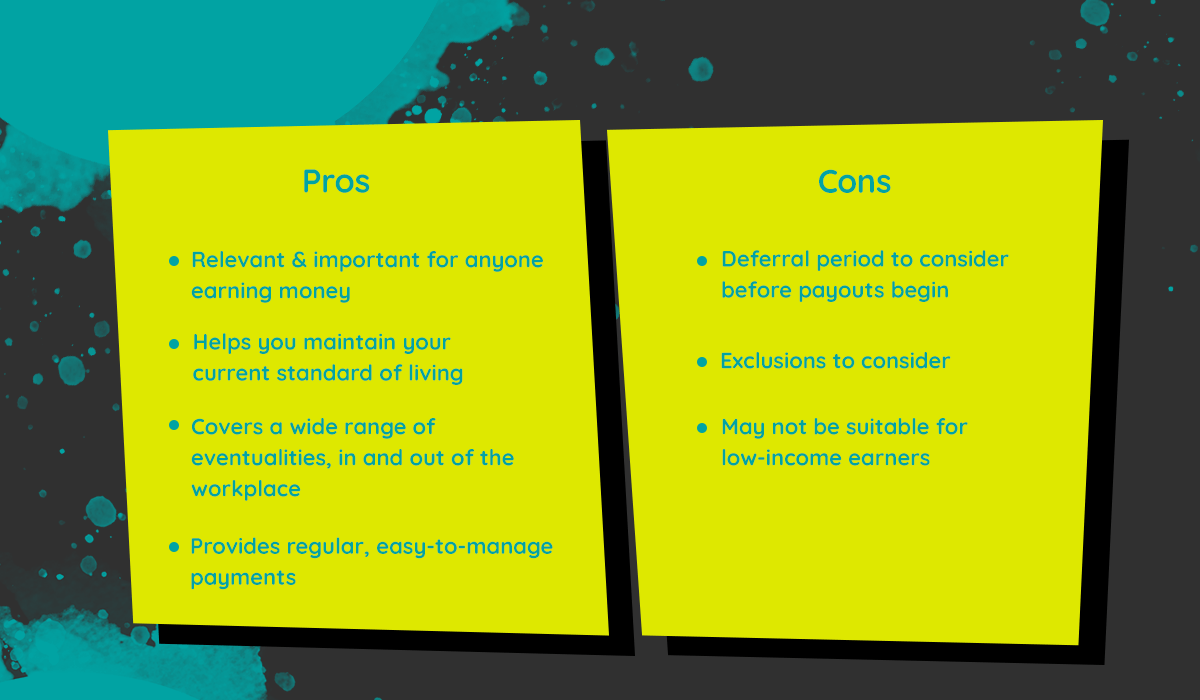 As with income protection, critical illness cover does come with its exclusions. These will differ between policies, so always check your policy documents. This will usually include pre-existing conditions, or anything self-inflicted, such as alcohol and drug misuse.
You might also find that a condition has to reach a certain level of seriousness before you can make a claim. Most insurers will specify how serious your condition must be before they payout. Some insurers will pay partial payments for less serious conditions, so it's always worth talking to your insurer to gauge their stance.
Some policies will even come with age restrictions. Whilst this won't affect most policyholders, it can be a drawback for some. A handful of policies have an upper age limit of 74 and a maximum term of 50 years. The policy ends when one of these limits is reached - whichever comes first.
How LifeSearch can help
Critical illness cover and income protection exist to provide peace of mind to you that your finances can be taken care of if you become seriously ill or injured. Since the COVID-19 pandemic, life has been tough for all of us. It's certainly taken a significant toll on the mental health of the UK.
Before the pandemic, an average of 20.3% of the UK population reported high levels of anxiety7. During the first week of the first lockdown back in 2020, this shot to 50.0%. It then averaged 34.8% between then and the remainder of the year.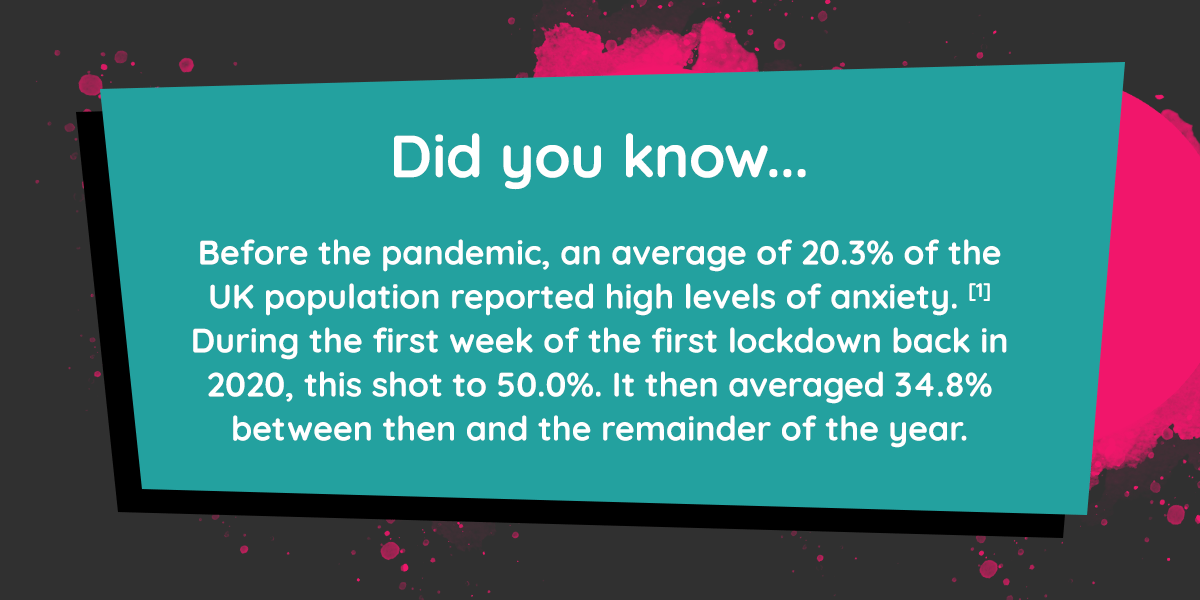 With so much more on our minds now and the realisation that none of us are invincible, insurance products such as critical illness cover and income protection can be a huge help in allowing you to sit back and relax, knowing that you have protected your family by taking care of the eventualities that are out of your control.
Whether it's income protection or critical illness cover that you are after - or even better, both - let LifeSearch help you take these next steps towards getting the right protection for your family.
References
1. https://en.wikipedia.org/wiki/Payment_protection_insurance
2. https://theconversation.com/the-ppi-scandal-is-far-from-over-heres-why-144688#:~:text=The%20PPI%20scandal%20led%20to,of%20registered%20claims%20remain%20outstanding
3. https://www.ftadviser.com/2014/04/23/insurance/health-and-protection/income-protection-vs-critical-illness-key-issues-UcdIpVfu9TmONAWF0LkMEO/article.html?page=2
4. https://moneytothemasses.com/news/why-80-of-uk-homeowners-risk-losing-their-home
5. https://moneytothemasses.com/news/why-80-of-uk-homeowners-risk-losing-their-home
6. https://www.statista.com/statistics/1040159/life-expectancy-united-kingdom-all-time/
7. /reports/health-wealth-happiness-2020
Find out whether income protection or critical illness insurance suit you
An expert adviser from LifeSearch can answer your questions, explain what options are available and provide fee-free quotes so you know what's right for you.
Get fee-free advice & quotes
A 'Searcher since 2015, John is a Protection expert having worked in our customer facing teams and best practice teams, and now is immersed in Protection Content and Marketing.

See all articles by John Rogers