How can we help you find your perfect cover?
4.9 out of 5
Your Guide to Writing a Will
Will writing; it's not an easy thing to have to talk about. However, if you want to make sure that your wishes are met after you pass away, making a will and keeping it up to date is super important.
As will writing isn't something we have to deal with every day, it's not something most of us know a whole lot about, which is where we come in. Here at LifeSearch, we've been on a mission to care for and protect families since 1998, so it's safe to say we know a thing or two when it comes to will writing - and you will too, once you read our comprehensive guide to writing your will.
You can
read a little more about LifeSearch
and where it all began (spoiler alert: on a cricket pitch, of all places!).
What is a Will?
A will is a legal document which tells those who are left behind your wishes when you have passed away. The contents of a will include the care of your children and the distribution of your money, property, possessions and investments (which are collectively known as your assets or your estate) [1]. Your will ensures that your assets go to the people and causes closest to your heart, once you are no longer alive to tell your loved ones your preferences.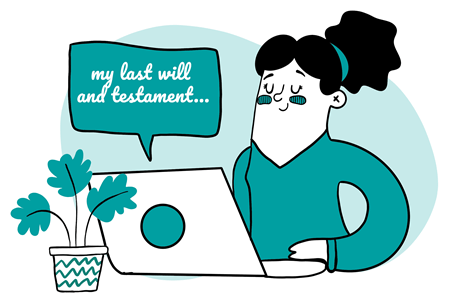 How to Write a Will
Once you start thinking about writing a will, it's worth noting down the key assets you own (typically higher valued or sentimental items) that you would wish to leave to loved ones or causes. When thinking about writing a will, you should also consider noting any decisions you'd wish to be made in your absence. Typical things to consider when writing a will could include:
- Property
- Savings
- Sentimental personal possessions
- A
legal guardian
[2]
for your children
- Instructions for your funeral
- What you'd like to happen if the people you want to benefit pass away before you
Once you have in mind exactly what you'd like to include in your will, you're ready to write your own will. You can write your will yourself, but it is advised that you seek advice from a professional if your will is not straightforward. For example, seek assistance if:
- You have property overseas
- You are a business owner
- You share a property with someone who you are not legally related to
- You reside outside of the UK
- You have a second spouse
- You have a child or children from previous relationships
Once your will is written up, in order to make it legally valid, you will need to get it formally witnessed and signed. You can then store with your solicitor, bank or will service provider, to keep it safe for when you or your family need to access it.
What is the Difference Between a Will and a Trust?
A trust can help you to keep certain things, such as the pay-out money from a life insurance policy, separate from the estate you leave behind - which means it should pay faster and shouldn't be subject to tax. We can help our
life insurance policy
holders to arrange this type of trust free of charge. You can see more about
trusts
here.
How Do I Update My Will?
Once your will has been signed and witnessed, you cannot change it. If you need to make an alteration, you can officially change your will by either making a new one, or adding something called a '
codicil
' [3]. A codicil amends your will, rather than completely changing it. There are no limits to how many codicils you can implement on your will, although it will cost you each time.
What Happens if I Don't Make a Will?
When someone passes away with a legally-binding will, the process is much easier and simpler than when someone does not leave a will. If you do not leave a will, you will die 'intestate', which means the law decides what happens to your money, property and possessions. Without writing a will, important things such as what happens to your estate are left up to the
laws of intestacy
[4] - meaning you may not have a say over who gets what.
Married or civil partners, or close relatives can inherit if you die intestate. However friends, business partners and romantic partners will not, as in the eyes of the law they are not related to you.
References:
[1] https://www.gov.uk/probate-estate
[2] https://farewill.com/articles/how-to-appoint-a-legal-guardian-in-your-will
[3] https://www.moneyhelper.org.uk/en/family-and-care/death-and-bereavement/changing-your-will
[4] https://www.gov.uk/inherits-someone-dies-without-will
A 'Searcher since 2020, Zuky is a self-confessed 'book bum' and has big following for her book blogs and social media accounts. She brings her passion for writing and storytelling to helping customers get all of the information they need to Protect themselves and their loved ones

See all articles by Zuky Edgar