How can we help you find your perfect cover?
4.9 out of 5
Another blog in this hub aims to show how people are looking for
a silver lining
to the current crisis. You have to look pretty hard.
As an example, we thought we'd ask those who celebrate / acknowledge Christmas how different this year's might look. Answer: it'll be tighter.
As a nation, in fact around the world, we've had to get used to a
different kind of Christmas
in recent years; given lockdown restrictions that kept us apart from friends and
family
, limited spending opportunities, and put curbs on Christmas shows and events.
Those
lockdown
obstacles may no longer be in place, but practical barriers to a
normal
Christmas are with us once again given the financial pressures households now face.
£200 less this year
Beginning our round of Christmas questions, we asked survey respondents to estimate how much more or less they'll spend in 2022 on all things holiday season.

No surprise that just 6% of respondents nationwide said they'll spend more on Christmas this year, leaving over half (53%) to say they'll spend less; with the remainder unsure.

In pounds and pence, for those who'll spend less the figures look like this: £76.20 less on Christmas presents, £52.40 less on Christmas food and drink, £59.30 less on Christmas experiences, £41 less on decorations and £61.80 less on Christmas socialising.

Simple maths and the majority of Britain is set to spend over £200 less on Christmas 2022.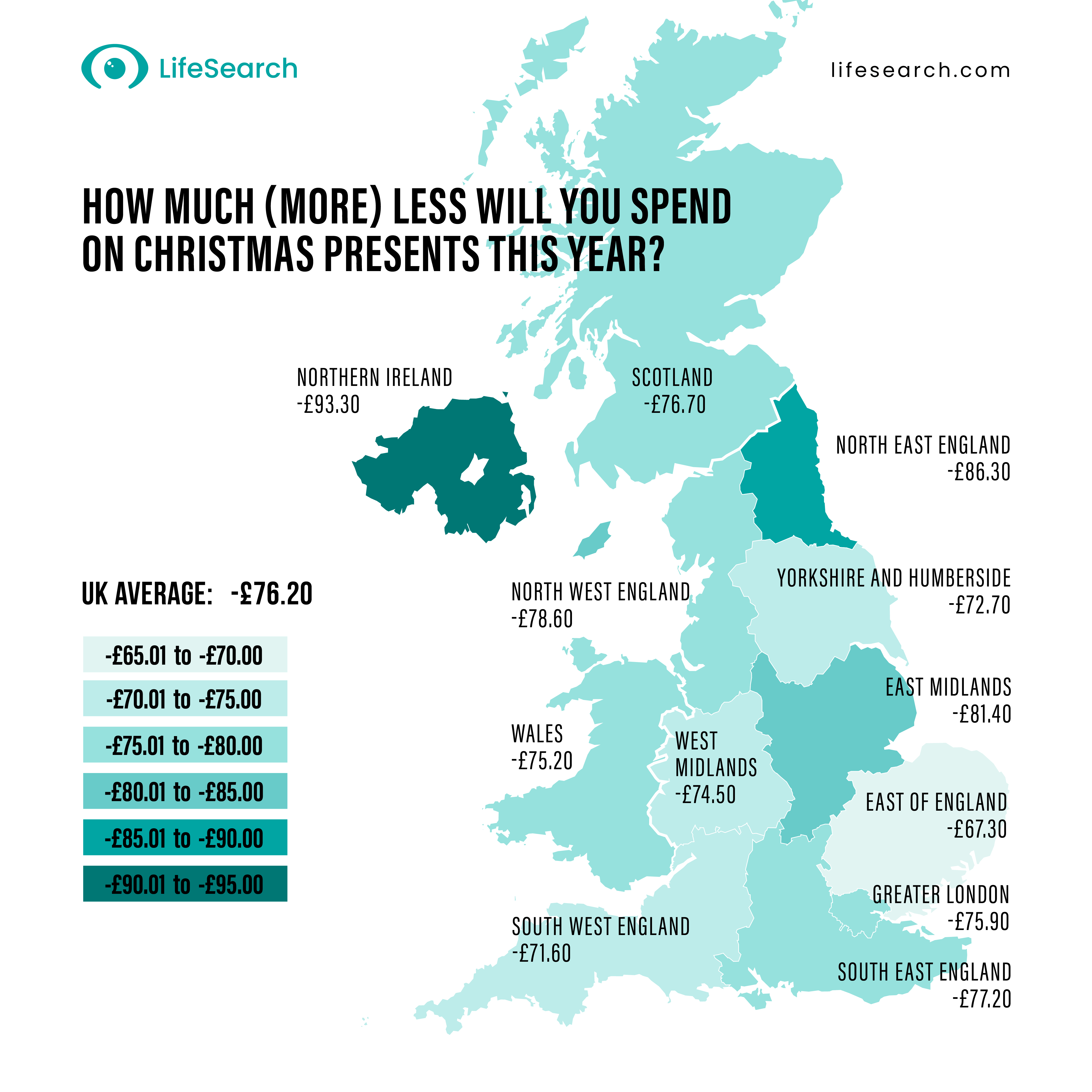 Presents, food, going out
It's interesting reading to see who and where the biggest cuts in Christmas will come. Again, the average Brit says they'll spend £76.20 less on Christmas presents, but at nearly £95 less we can see that residents of Northern Ireland are curbing that spend more than any other region.

In the Christmas food and drink stakes, Londoners are looking to lob £67.20 off the 2021 bill versus a UK average of £52.40.

Christmas experiences are being reined in most in the North East, while Christmas socialising will be pared back most in London and in Scotland.

Coming at the data by age, a few things stand out. Once again it's the younger demographics who feel they'll have to rein things in most, with 18-34-year-olds set to curb their Christmas costs by over £335.
Splice the data by household profile and single parent households are vowing to make more cuts than any group, saving nearly £100 on Christmas presents alone and £363.90 overall. The only comparable category is cohabiting parents, where spend is likely to be curbed by £351.

It is sadly clear the cost-of-living crisis will force a different Christmas for many UK families this year. And unfortunately … if not predictably … it's not just Christmas.

Nationwide, 60% of parents say they think it's likely they'll soon struggle to afford the things their children need or want. In single-parent families, this rises to 70%.
Further reading
It doesn't make for the most positive reading, but you can go on to explore the ways in which different UK demographics, regions, households and families are coping with the vice-like squeeze on their incomes by spending time reading blogs stemming from the
Health, Wealth & Happiness Hub
, or you can
read the report in full.
Sophie began as a Protection Adviser at LifeSearch in 2017, helping customers to Protect the lives they love. She now brings her experience to Protection Content within the Marketing team. Sophie's a passionate Street Dance teacher in her spare time, and teaches children and adults all the right moves.

See all articles by Sophie Cussons