How can we help you find your perfect cover?
4.9 out of 5
What is Director & Executive Insurance?
Too many businesses overlook protection for their most vital assets: their people.

If you own or represent a business, you can protect key people at the company at a personal level against sickness, critical illness and death.
Business insurance is a group of protection products designed to shield employees and employers from the financial impact of a key person's sickness, critical illness or death.
Business insurance is open to most
Sole traders
Limited companies
Partnerships
Limited Liability Partnerships (LLP)
Why LifeSearch?
We've been protecting the UK since 1998. That's hundreds of thousands of families and businesses, and well over 1.7m individuals' lives. We're rated 4.9/5 from over 21,000 Trustpilot reviews; written by customers just like you.

As an independent intermediary, our loyalty is to you – not to insurers or their products. Our role is to identify the protection policies that'll work for your business and its people in the most effective and efficient way.

Last year, our business insurance division helped thousands of business owners and company directors to build in new protections for people and profits in the aftermath of the Covid-19 pandemic.
Life insurance options
The two most popular kinds of life insurance, are level-term life insurance and decreasing term life insurance.

There's 'whole of life cover' too. Speak with an expert adviser for advice on what's best for you.
Level term life insurance
Level term life insurance is when the pay-out amount (if/ when you die) doesn't change. Take out £200,000 of level term cover over 20 years and your loved ones will receive exactly that amount whether you die on day five or day 5,000 of your policy's life.
Decreasing term life insurance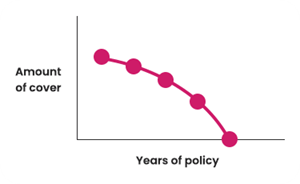 In a decreasing term life insurance policy, the overall cover amount decreases over time to reflect the value of your mortgage. As mortgage is paid back the amount required to pay it off (if something happened to the mortgage holder) reduces.
Protection for directors and executives
Products for senior staff include:
Relevant Life Cover
Executive Income Protection
Shareholder Protection Dividends Protection
For more detail, costs and how business insurance can protect you, your people and your company, speak with a LifeSearch business insurance expert.
Relevant Life Cover
This is when a business offers death-in-service benefits to its employees, including shareholders and directors. It's a tax efficient way for a business to shield employees' loved ones from the financial impact of death.

Relevant life cover can be a valuable addition to any corporate benefits package, helping staff retention and even recruitment in a competitive market in an era where employee wellbeing is top of the agenda.
Executive Income Protection
Executive income protection provides directors and employees with a regular replacement income if they can't work due to sickness or injury.

An income protection claim usually pays out between 50 and 70% (sometimes more) of an employee's gross income. Generally speaking, it's paid each month so the sick team member can keep up with their regular bills and outgoings.

In many cases, payments also cover the employer's National Insurance and pension scheme contributions on behalf of the employee, which allows retirement plans to stay on track.
Shareholder Protection
If a business owner dies, their share of the business (and the control that comes with it) usually passes onto their loved ones.

Shareholder protection provides the funds to the surviving shareholders, so they can purchase the shares from the deceased's estate, without paying un-necessary taxes.

Without shareholder protection, fellow owners may struggle to buy back control of their business, potentially unsettling the company and its plans.
Dividends Protection
Company shareholders often take large portions of their income through dividends which, unlike a fixed salary, can vary in value and frequency, month to month.

If a company director or shareholder suffers an illness or injury and has to take time off work, dividends protection can ensure a vital part of their income keeps coming.
How much does business insurance cost?
The costs of business insurance are very finely tuned to the needs of your business: the kind(s) of cover you want, the number of employees you wish to protect and the age and health situations of those employees / senior staff may all play a part.

The best way to short-cut through any guesstimates on costs is to speak with a LifeSearch business insurance expert.

They can tell you what's possible and, based on your answers to a few questions, narrow down the potential costs. They'll also advise what tax relief is available and put it into real terms for you.
Wellness guides and services
Many of the business insurers LifeSearch choose to work with offer additional resources alongside their cover to keep employers (and employees) informed, with access to support services in some cases.
The value of business insurance
Additional services, tax relief and peace-of-mind available – not to mention the value of being able to recruit and keep top talent in a competitive market – business insurance can be a massively cost-effective tool for a company that wants to protect its people, and grow.
Easy guides to help you get started
LifeSearch are recommended by