How can we help you find your perfect cover?
4.9 out of 5
The UKs most searched questions about Critical Illness
Interest in critical illness cover in the UK is on the rise, with 6,800 average monthly searches for "critical illness cover".

Searches for "critical illness insurance" have reached 2,300 in the past month alone, and more than doubled (+53%) over the past week.

A leading UK life insurance broker has answered the most Googled questions in the UK related to critical illness cover.
Questions about critical illness and related topics have spiked over the past year, and searches for 'critical illness insurance' are +53% up in the past week, revealing that people in the UK are becoming increasingly concerned about being affected by critical illnesses such as cancers, strokes or heart attacks.

The research highlighted that "critical illness cover" has an average monthly search volume of 6,800, and that searches for "critical illness insurance" have more than doubled over the past week.

According to the NHS, the likelihood of a resident in the UK getting a critical illness like cancer in their lifetime is becoming increasingly likely (currently 1 in 2), so having the right protection in place is key.

Life insurance broker, LifeSearch, conducted this research using Semrush and Google Trends data, in a bid to highlight the importance of talking about these subjects and to give the UK a better understanding of everything they need to know about critical illness cover.
The UK's Most Searched 'Critical Illness' Questions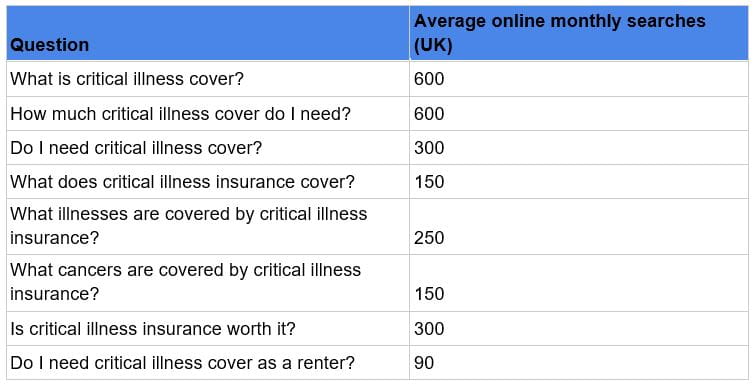 Emma Walker, Chief Marketing Officer at LifeSearch says; "In challenging times the number one priority is to support those you love. Data is clearly telling us people want to find out more about how to protect their loved ones, especially if they become ill or seriously injured. We advise people with understanding and information to help them choose the right protection to suit their personal needs."

Here, Emma answers the UK's most frequently asked questions about critical illness cover.
What is critical illness cover
"Critical illness cover provides you with a tax-free lump sum of money - or income - if you become seriously ill or in some cases have a life-altering injury. The kinds of illnesses that are covered usually include very serious and long-term conditions such as a heart attack, Parkinson's disease or cancer."
How much critical illness cover do I need?
"The cost of and amount of critical illness insurance will depend on a number of things, including your age, your health, whether you smoke, how long the policy lasts, how much cover you want, and how many illnesses are covered by the policy. As a simple rule, the more likely you are to fall ill and make a claim on your policy, the more expensive and in-depth your cover will be. So the younger you are when you apply for your policy, and the healthier your lifestyle, the lower your insurance premiums will be."


Do I need critical illness cover?
"If you've got a family you want to protect, then have a think about the importance of critical illness insurance. Here are a few key questions to ask yourself:
What would happen if my family lost my income because I became unable to work due to illness?
What changes, if any, would we need to make financially if we lost my income due to illness?
Do we have savings or other assets that could support us financially? Are we happy to use these?"


What does critical illness insurance cover?
"Different insurers offer different critical illness products which cover different illnesses. Many insurers now even cover illnesses that are less serious, or earlier stage illnesses, to increase your chances of being able to make a claim on your policy. With this, they have also introduced multiple levels of payout, so that the really serious illnesses receive the full cover amount, and those less serious ones receive say 25% or 50% of the cover amount.

Most insurers also protect your children against certain critical illnesses. This money can help to pay for private treatment or to cover lost income if you need to take time off work to care for the family."


What illnesses are covered by critical illness insurance?
"Generally speaking, all products will cover cancer, heart attack and stroke as a minimum. Some insurers cover just these three illnesses, and others cover more than 50 conditions, including organ transplant, blindness and deafness."


What cancers are covered by critical illness insurance?
"There are approximately 100 types of cancer. Some are covered in critical illness while some could be excluded. For more information on this, consult the details of your critical illness cover."

Is critical illness insurance worth it?
"Even if you don't have family members who rely on you financially, critical illness insurance might still be a useful product, particularly if you're unable to work but still need to cover the household bills.

Not everyone needs critical illness insurance, so it's worth talking to a life insurance expert like LifeSearch about your personal circumstances, so they can work out what you need."


Do I need critical illness cover as a renter?
"Critical illness cover is still important if you rent your home. If others depend on you financially, regardless of whether you're a homeowner or a tenant, critical illness cover could support them with a cash pay-out if you were to become ill during the length of your policy."

LifeSearch's critical illness cover contains all the information those interested would need, so that the UK is armed with the right information to protect the life they love.
-ENDS-
Media contact
Amanda Ayres
amanda.ayres@wearenorth.uk

Data Collection
The data was collected from Semrush and Google Trends in September 2022.

About LifeSearch
Over nearly 23 years, LifeSearch have grown into the UK's biggest life insurance specialist, offering expert, independent advice to customers around life insurance, critical illness cover, income protection, family income benefit, serious illness cover and business insurance. Over our two-plus-decades, LifeSearch has picked up dozens of awards for company culture, expertise and customer service. We have a TrustPilot score of 4.9 out of 5 (excellent) and came Top #3 in our debut appearance on the Sunday Times' list of Best Places to Work in the UK – www.lifesearch.com
LifeSearch have been protecting the life you love since 1998. We've protected over 1 million of families in our time. Read our views and opinions on the latest industry news, and what we have to say on all things Health, Wealth & Happiness. Our content is brought to you by LifeSearcher's and guest writers.

See all articles by LifeSearch