How can we help you find your perfect cover?
4.9 out of 5
In a crisis - keep cover
Over £100 to fill the car. Bread's up by 16% and pasta by 50%. The cost of meat is soaring, and energy prices … well, let's not.

Things aren't good - this we know.

When times are tight, and they are, the logical move is to cut dispensable items from the budget. Hence we're spending less on travel and holidays. We're delaying big-ticket purchases. Poor restaurants are bracing for even more pain.

And as you work your way down the list of unnecessary line items, it's not long before you hit life insurance. In the midst of a squeeze, it doesn't feel all that essential …
Keep Cover
Life insurance isn't car insurance: there's no legal requirement.

Still, we describe it as the foundation of financial health. If life throws a health curveball, you're covered. Your loved ones have a cushion to fall on. It's security for the future.

But that's easy to claim from over here. In a cost crisis where every penny counts … there's precious little scope to think about the future - we're worried in the here and now.

Cancelling, though. It doesn't have to be so extreme.
We'll help you restructure
Life insurance isn't all-or-nothing. Your policy can be reconfigured to a more manageable monthly premium. There are other policies, insurers and products out there – your policy then doesn't need to be your policy now.

We say it so much around here that it's become a cliché, but some protection is always better than none. Many policyholders assume they're in an all-or-nothing position but we can always look to recut a policy to protect the things most vital in the here and now.

Your health. Your income. Your family.

Many of us are caught up in worrying about today. We get that. So can life insurance. It's not just about lump sum payouts in a few decades' time, it's there to ensure this situation we're in doesn't have to get worse if fate decides to pile it on.
Don't short yourself later
A message we try to get through is that life insurance tends to cost less the younger you are. It's to do with risk. Except where there's a significant medical issue, the younger one is, the less risk they carry and the less they'll pay, typically, in monthly premiums.

The kicker is that this dynamic works the other way too.

We know (because we hear it daily) policyholders might view cancelling their life insurance policy as a temporary measure to help cashflow. It's understandable. But cancelling or "pausing" it now means you'll be risk-assessed again when you come back to the table.

If you took your policy out five years ago, and you wait another three before applying again, those eight years – and any changes in your health – may show up in your premiums.
Below, is an average cost of a Level Term Assurance policy, for those aged between 25-60.
*Please note that these are prices based on non-smokers, with no medical conditions.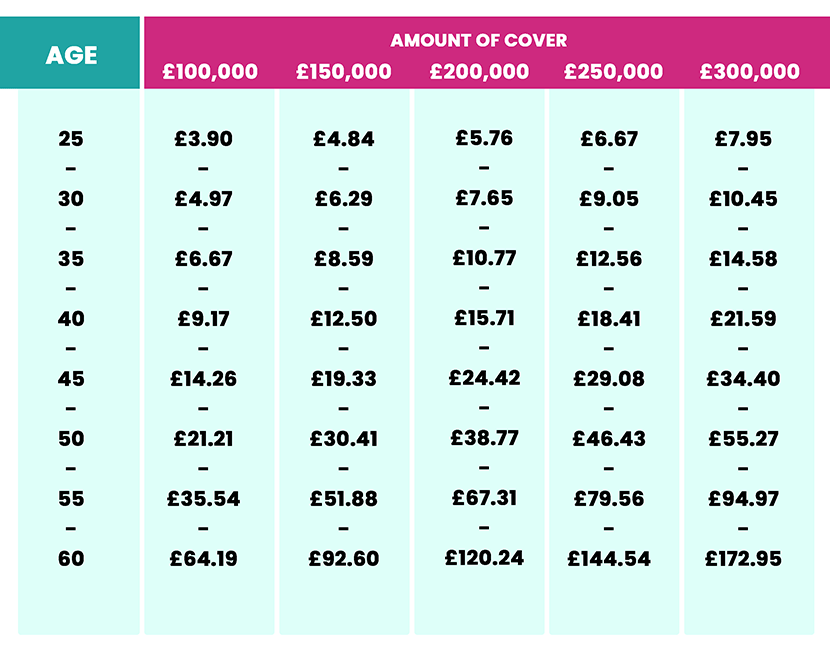 Cost cutting could carry financial baggage. Remember, some protection is always better than none.
Tax efficiencies
A last recommendation goes to business owners and entrepreneurs, of which there are an estimated 13m in Britain today.

Protection products can be paid for through a business and there can be tax-efficiencies in doing that. It's a shrewd way for a business to protect itself and its employees; in terms of their value as workers, and as private citizens.

So if you are one of the 13m, business protection could be a practical way to bring personal expenditure down for you and your employees.
Whatever your decision – talk it through
We won't go on … it'll start sounding preachy. Too often, however, we hear about people cancelling policies without this knowledge:

• Life insurance is protection so bad doesn't get worse.
• Restructuring is possible. Spending less is possible.
• Cancelling may save money short-term. But will probably add cost long-term.
• Business protection can help employees and companies navigate uncertainty.
That's it for now. Before you cancel please call us to discuss options. Because there are options.

Times are tough. Today is a struggle but, as the cliché goes, some protection is always better than none.
LifeSearch have been protecting the life you love since 1998. We've protected over 1 million of families in our time. Read our views and opinions on the latest industry news, and what we have to say on all things Health, Wealth & Happiness. Our content is brought to you by LifeSearcher's and guest writers.

See all articles by LifeSearch