How can we help you find your perfect cover?
4.9 out of 5
Five Sports To Try While You Still Can
3 Sep 2019
It can't be denied - summer's drawing to an end but with the weather holding up, there's just about time to think new before darker days kick in and we race towards winter.
So here's a gander at five sports for you and (possibly) the kids. Whether you're looking to get fit, focus the family, or launch headfirst into a new hobby, here's some thinking outside the penalty box. A quick caveat: your new favourite hobby may come with a life insurance warning. See end of article.
Cricket
Ben Stokes, take a bow. Thanks to England's summer World Cup win and a show-stopping Ashes performance from our Ben, cricket's set for a resurgence. And it's about time too because participation in England's other national game had been falling off a cliff.
Some see it as posh and/ or boring, but more appealing versions of cricket, such as the T20, add a little more spark. If you thought cricket was a low-impact sport, that's not exactly true: fast-bowlers can run the equivalent of a marathon at full pelt over the course of a day's play.
Discipline, fresh air, team bonding, cardio - cricket officials are finally seeing the value in bringing the sport to the streets. It's about time they forged connection with non-natives so why not give it a try.
Check out the ECB's PlayCricket.com to check out cricket in your postcode, and a whole lot more.
Surfing
With over 7,700 miles of coastline, a (relatively) temperate climate and a notable lack of things that eat you, the UK has all the ingredients of a surfer's paradise.
For habitual wave-riders, surfing offers a host of health benefits. It's an intense core and upper-body workout, it raises endorphins and improves circulation. In other words, it'll leave you exhausted and utterly buzzing.
Generally speaking, wherever there's coastline there's a place to surf. Lessons aren't overly expensive either, perhaps £100 for a batch of five or six including equipment. You can even try a so-called 'surf-camp'. So there's no need for a major up-front investment - you can dip a toe in the water first.
Top surfing locations include Newquay, Cornwall, and Thurso, way up north. With the adrenaline pumping, the sea won't be that cold, honest.
If you're keen to investigate the thrills, the Surfing England website is a great place to start.
White water rafting
It's a shame it's one of the least-adopted sports in the UK, because it's also one of the most thrilling. Imagine you're tearing down the soapy rapids, paddle in hand, praying you don't capsize (although really hoping you do).

It's a scare, an endorphin rush and an intense full body work-out all wrapped up in a wetsuit. The UK is teaming with raft-able rivers, and access is a booking away.

Scotland leads the way in UK rafting, boasting outrageous class-5 rapids in both Orchy and in the Cairngorm National Park. At £30-60 a session, including the gear, white water rafting seems pricey at first, but it's worth taking the plunge just once to see what you're missing.
To get started in white water rafting, it'll require some research into your local who's and where's of it. A good place to start is at BritishCanoeing.org.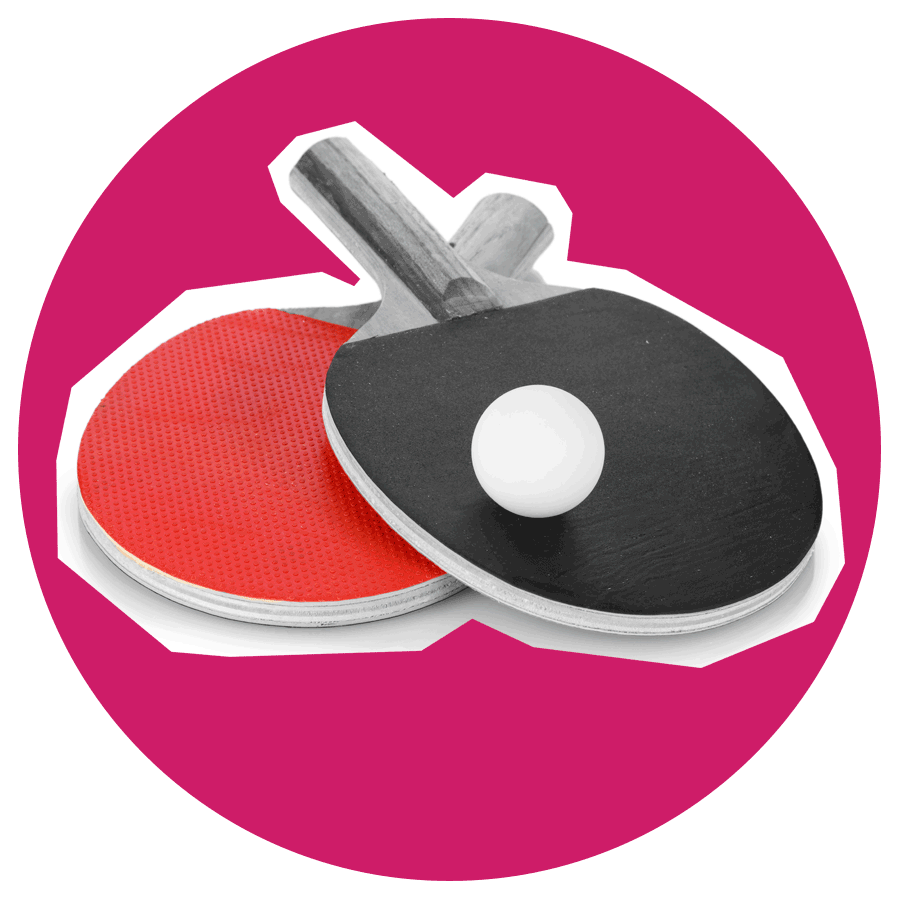 Table tennis
Sound a bit dated? In the last three years, table tennis has gained serious traction, with the number of weekly players up 10% nationwide. Why the resurgence? Funnily enough, the organisation behind the sport is aggressively partnering with public places, such as shopping centres and parks, to boosting participation and encourage more activity. And as one of the few games that unlocks instant, easy family fun, it's a great option for you and the youngsters. Benefits of regular ping-pong play beyond fitness include better coordination; mental sharpness and balance. Bars are also getting in on the ping-pong action as the trendy phenomenon of competitive socialising raises its rep. Now, we're not suggesting the local boozer's the perfect place for you (or the kids) to get a regular fix, but it's an option. Failing that there's the sport centre – any one worth its salt will book you a 45-minute slot for not much more than a tenner.
Use this
TableTennisEngland
tool to locate your nearest local table.
Rock climbing
Touted by many trainers and fitness experts as the best workout possible, regular rock climbing will knock you into shape in a matter of weeks. Rock climbing is an intense full-body workout from the moment you grab a hold to the second you let go.
It's physically exhausting, but for slimming down and toning up rock climbing's tippy-top - not to mention loads of fun. Currently, around 80,000 Brits take to the cliffs each year to get their fit on, a 200% increase in just a few decades.
As a life insurance company, we'd definitely advocate indoor climbing first. It's safer (and cheaper and much more accessible).
As a stepping stone to any cliff-edge action (and before you throw circa £200 into belays, chalk bags and safety gear), pop down to your local climbing centre (they're everywhere now) and it's an outlay of probably twenty quid to get a foothold in the basics.
To locate a local indoor climbing wall, use this handy finder tool courtesy of the British Mountaineering Council.
***
Anyone can expand their sporting repertoire, whether it's joining cricket as it re-emerges from its slump, or discovering a new family activity in the form of table tennis.

As a protection (life insurance) broker, we wouldn't be doing our job if we didn't offer a quick word on surfing, white water rafting and rock climbing.
Classified as high risk pursuits, if you're even a semi regular in any of these, you'll need to declare it on your life insurance application; as it may affect your premium.

Why? Well, they all increase your chances of dying.
However, if there's a thrillseeker itch you simply need to scratch, go into with mind and eyes open. Safety first, at least while you've got training wheels on.