How can we help you find your perfect cover?
4.9 out of 5
Types of life insurance explained
Life insurance comes in lots of different shapes and sizes. We've covered all of the important products here, so that you can work out exactly which type of life insurance is right for you.
---
Content
---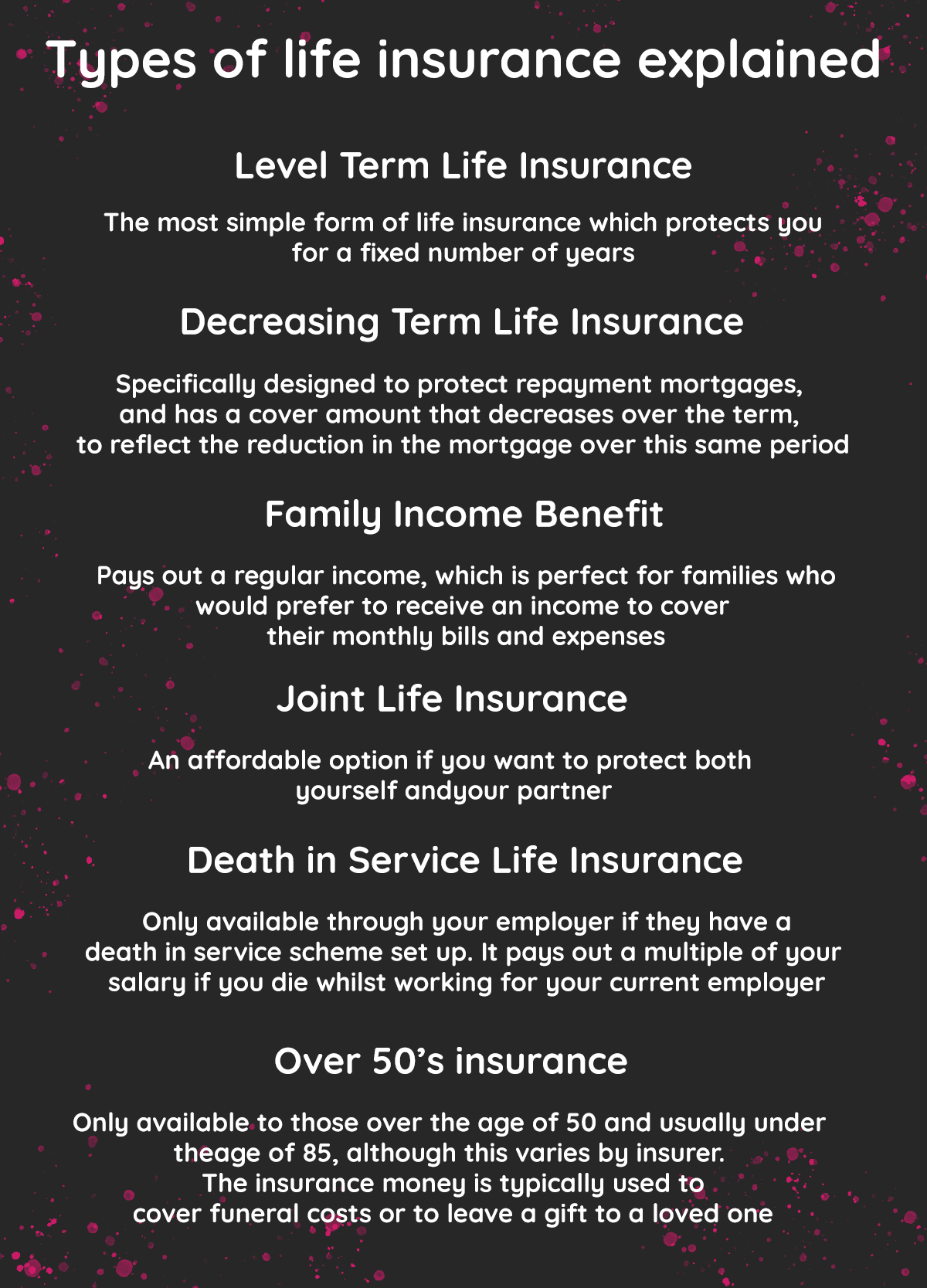 Level term life insurance
Level term life insurance is the most simple form of life insurance which protects you for a fixed number of years (the 'term'). You choose how long you'd like to be protected for when you buy the product, say 25 years, and the amount of cover you'd like, say £100,000. The cover amount stays the same for the full term of cover, hence the name, level term life insurance.
The insurance benefit is paid out if you die during the term, and the money can be used for any purpose, however, many families use it to pay off interest-only mortgages or cover other living costs.
Decreasing term life insurance
Decreasing term life insurance is often sold as mortgage protection life insurance, the two products are pretty much the same.
Decreasing term life insurance is specifically designed to protect repayment mortgages, and has a cover amount that decreases over the term, to reflect the reduction in the mortgage over this same period.
Decreasing term life insurance is a little cheaper than level term life insurance, so it is a good product option if it suits your specific financial situation. To see if you could save money with decreasing term life insurance, request a callback from one of our product experts today.
Family income benefit
Family income benefit differs to level and decreasing term life insurance in how the insurance money is paid. Instead of paying a one-off lump sum, family income benefit pays out a regular income, which is perfect for families who would prefer to receive an income to cover their monthly bills and expenses. Many find that family income benefit is more affordable than term life insurance, so it's worth requesting your personalised quote from the LifeSearch team to see how much you could save.
Joint life insurance
Joint life insurance is an affordable option if you want to protect both yourself and your partner, and is particularly useful in cases where both salaries are needed to cover the household bills and mortgage repayments. This type of life insurance pays out a tax-free lump sum amount of money on the death of either yourself or your partner, and can often work out cheaper than buying two separate life insurance policies.
Death in service life insurance
Death in service life insurance is only available through your employer if they have a death in service scheme set up, it's not available to buy independently elsewhere. Death in service life insurance pays out a multiple of your salary if you die whilst working for your current employer.
It's always good to check whether the total cover amount is sufficient for your financial needs and it's also worth bearing in mind that if you leave your employer you will lose this protection.
Death in service life insurance can be topped up with other insurance products to build a protection package that's perfectly aligned to your personal circumstances. Speak to a friendly LifeSearcher on 0800 316 7253 if you'd like to hear more.
Over 50s insurance
This is a guaranteed acceptance product, which means that there are no medical questions, everyone who applies for cover will be accepted. A great option if you suffer with any health conditions, but there are a couple of downsides to be aware of:
You won't be fully covered for the first few years. Over 50s insurance products won't pay out your full cover amount if you die within the first few years of your policy, normally the first two years, that is unless you die as a result of an accident

Over 50s insurance is more expensive than standard life insurance, with cover typically costing at least twice as much
Over 50s life insurance is only available to those over the age of 50 and usually under the age of 85, although this varies by insurer. The insurance money is typically used to cover funeral costs or to leave a gift to a loved one.
Other things you should know about
It's worth being aware of a few extra benefits and options that can be included alongside life insurance:
This is an extra insurance benefit that pays out if you are diagnosed with a terminal illness and only given 12 months or less to live.
Life insurance policies can be written into trust. Few are, but many should be. Trusts help to make sure that your life insurance payout goes to the right person and helps to speed up the time taken for the insurance money to arrive.
This is a product that only pays out if you die as the result of an accident. This type of cover tends to be very cheap.
Increasing or indexing cover
As the name might suggest, this type of life insurance has a cover amount that increases over time. The benefit can increase by a fixed amount every year or it might follow inflation.
There are a surprisingly large number of life insurance products and options to know about, but don't worry - at LifeSearch we're experts when it comes to life insurance and protection because we talk about it every single day. So request a callback from one of our award-winning advisers. We'll be able to find the right type of life insurance for you, depending on your circumstances and what's going on at home.
I want to know more…
We're here to help. Call us on 0800 316 7253 or request a callback from one of the LifeSearch advisers who will happily answer any questions you have. We're help to help you protect the life you love - and we look forward to chatting soon.