How can we help you find your perfect cover?
4.9 out of 5
There's No Harm In Sharenting, Right?
1 Oct 2019
Ever seen a Facebook post depicting baby poo? Or vomit? Little Jimmy on the climbing frame? Little Joy yawning? How's about poo? Poo? You seen poo?

You probably have. Parents who've sprogged love to throw up social media pictures and posts charting their little one's progress. Some start it from the ultrasound. From bump to birthdays and beyond: kisses and cuddles; highs and lows; schooldays and sickdays.

Obviously, some parents are more bearable than others. But because the internet's brilliant at words and stuff, there's a name for this: sharenting.

There's also such a thing as oversharenting - and it's a huge can of worms.

First up, no one's saying that posting kiddy pics on social media is wrong per se. But just like e-cigarettes, we don't yet know the long term impact of oversharenting on our children's mental health, development, life chances …

What we do know, however, is fairly eye-watering.

Ten years ago, Twitter and Facebook were both just a handful of years old and Instagram was breathing its first breath. Yet still a US study proved that more than 90% of two-year-olds and 80% of babies already had a presence online.

In 2018, the UK Children's Commissioner estimated that by the age of 13, a child's parents have posted some 1300 snaps and videos of their youngster online. And unless we've locked up our social accounts so only family and close friends can see, that's a lot of acquaintances and near-strangers who can easy get their hands on said info, images and vids.

Think for a second how that information might be used. Beyond the really bad stuff (grooming, exploitation, bullying, revenge), there's potential embarrassment for the child later. Jimmy doesn't want that pic of his poo airing when he's trying to land a job.

It sounds funny, but in an age of algorithms who knows what data might be thrown into the lot and used in decisioning by an institution. Could what you're sharing about your kids impact their future chances of getting into uni, or accessing credit?

There really are risks associated with the old sharenting. In fact, Barclays calculated that by 2030, sharenting will play a part in the majority (66%) of cases of identity fraud. How? Because with a name, a date of birth and an address (perhaps found via geo-tagged photos), all a bad'un needs to do is wait until the child is, say, 18, and they can start opening accounts.

It's actually a bit of an ethical minefield. Some studies show that children who believe they're akin to 'public property' have an altered sense of self: they struggle to push the boundaries of self-expression and independence, stifling a vital part of growing up.

And away from the ethics lie very real legal question marks too – there's a conflict between a parent's right to post and a child's right to privacy.

This conflict is nothing new, it speaks to the inherent give and take issues of social media. The following two positions are equally valid:

1) Social media is a time-wasting, rabbit-hole of narcissism, fakery and nonsense ...

2) Social media can genuinely provide entertainment, warmth and support - and it can maintain connections with faraway family and friends.

This is a conflict many of us have resolved: we know social media can cause harm and pain, but we stick with it as the perceived benefits outweigh the drawbacks.

This social media give/take is most obvious with children: there are social, entertainment, education and connectivity gains but also very real risks.

The media does like to hype those risks, but while we get in a twist about kids being online … won't somebody please think of the parents?

Because social media is creating enormous pressure for mums and dads too. In a 2015 census of UK parents, half of all mums said social media intensifies the pressure to achieve parenting perfection. For many it is the battleground for competitive parenting, hence the relentless sharing of kiddie pics and progress.

Please don't misunderstand - no one's saying you need to maintain a strict silence when it comes to putting your kids on social media. But the first thing to do is, when they're ready, ask their permission!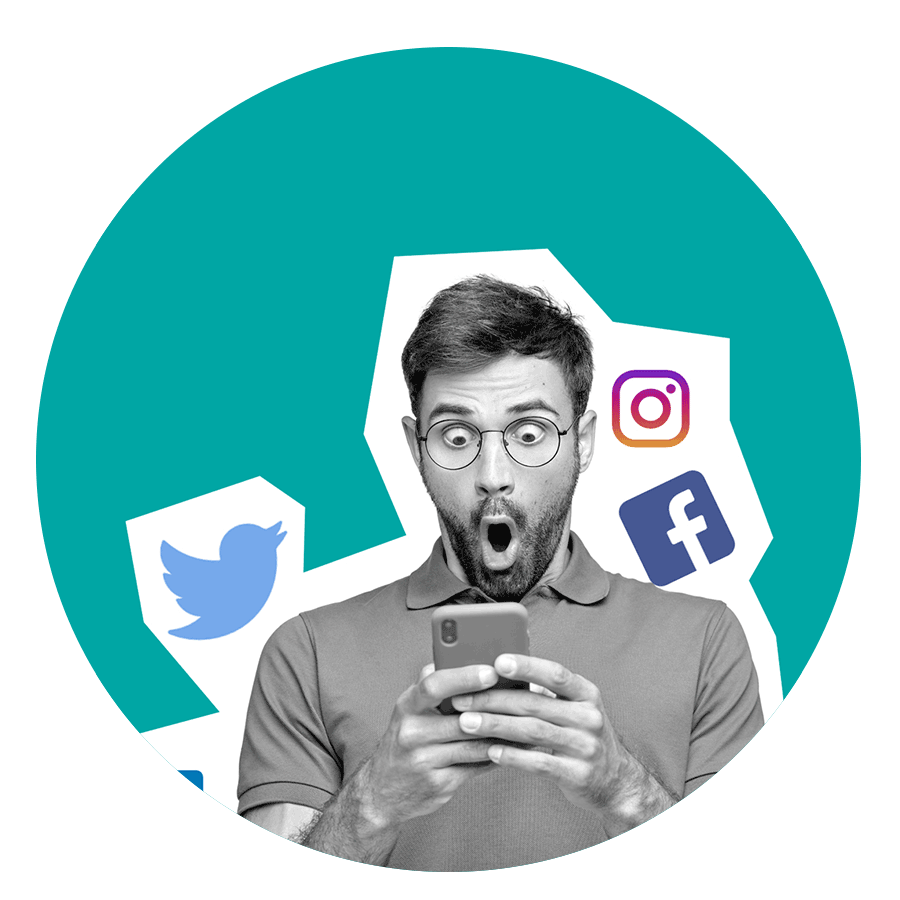 It's essential to talk to your children 1) about the weird social media dynamics of the world and 2) what you plan to share online about them.

Engaging children and bringing them into the decisioning (as soon as they're able to understand) is said to improve a child's sense of autonomy; giving them sharper instincts for setting general life boundaries - what should remain private and what's OK to share with others.

Even if Facebook and Instagram et al will remain the window to your life (and your life very much involves the kids) then the following safety precautions are a bit of a no-brainer:

• Show some restraint (not everything needs to be out there)*
• No location tagging (or any other key identifiers)
• Double-check your privacy settings (who can see what?)


*And to the parent, one key question to ask yourself before posting a photo of the little one on social media is this: who are you really doing it for?

If it's genuinely for the good of the child, cool.

If it's for faraway friends and family, fine. But maybe an email or closed-loop chat group might be safer.

And if, really and honestly, you're doing it for you – for a Likes, Shares, Comments boost to help the old self-esteem levels – that's probably an instance where it's best not to.

There's sharenting, and there's oversharenting – right?