Protect the life you love
Free expert help to find your perfect cover
Life Insurance & Pre-Existing Medical Conditions
21 Jan 2021
Life can be difficult with a medical condition. It can get in the way of day-to-day life and prevent you from being the best version of yourself. On top of that, it can also make it tricky to find yourself the right life insurance.

People often think that having a pre-existing medical condition makes it impossible to get life insurance. We're here to tell you that isn't true. When we refer to pre-existing medical conditions, we are referring to any conditions that exist at the point of your application for life insurance. Individual conditions that fall into this category will depend on the insurer, but will usually include things like diabetes, asthma, epilepsy, obesity, heart disease, high blood pressure, HIV, cystic fibrosis, Crohn's disease, and some mental illnesses like depression. If you have a history of heart attacks, cancer, or strokes, this may also be considered a pre-existing medical condition.

More than 26 million people are living with one long term condition1 in the UK alone, and 10 million live with two or more2. That's more than 38% of the UK population potentially struggling to find insurance. It's ironic, as these are the people who are likely to be most aware of the importance of life protection products due to living with the day-to-day risks of their conditions.

However, whilst it's true that those with pre-existing conditions will be seen as higher risk (more likely to make a claim) and premiums may be bumped up to compensate, it's not impossible to find good cover. It's just a case of shopping around a little more.

Going through an experienced life insurance broker, like us here at LifeSearch, can really help you too. Every insurer will approach each case differently, and as experienced Life Insurance brokers with access to all leading UK insurers, we know which providers to turn to and how to advise you, making the process much easier for you.
So, can I be denied life insurance because of a pre-existing condition?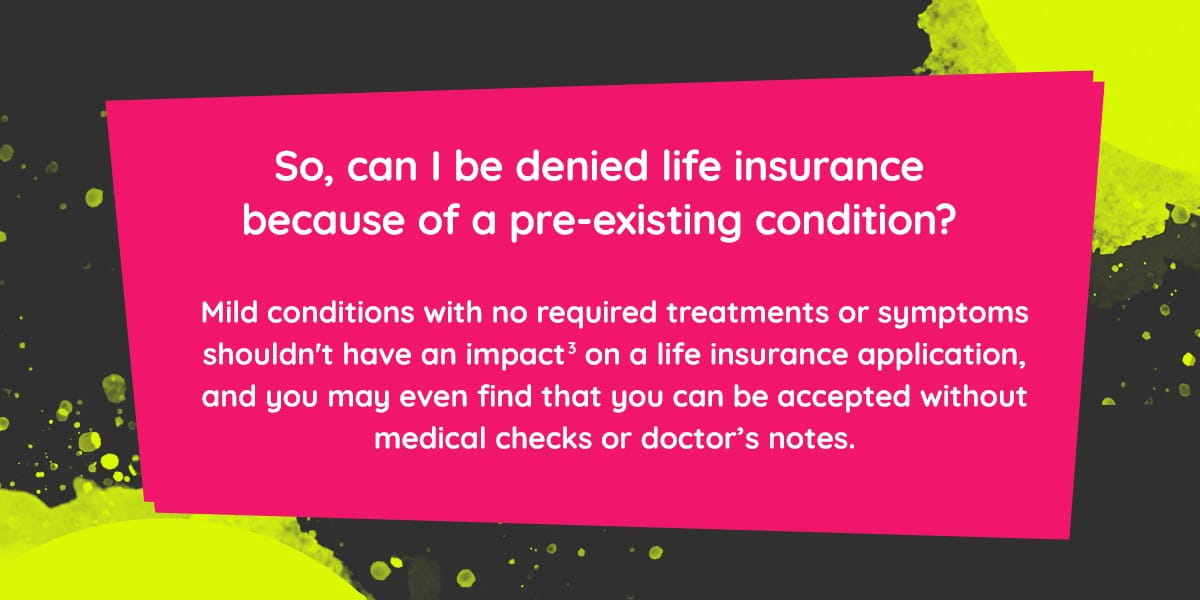 The short answer is… yes, you can be denied - but hear us out. Sure, there will be insurers unwilling to cover certain conditions and certain situations, however, this doesn't mean that your chances are over and that there isn't an insurer that will cover you.

Mild conditions with no required treatments or symptoms shouldn't have an impact3 on a life insurance application, and you may even find that you can be accepted without medical checks or doctor's notes. More serious conditions will likely cause the insurance company to write to your doctor and may result in a 'loading' or 'rating' being applied. A loading or rating is effectively an increase that is applied to your premium due to you posing a higher risk to the insurance company4.

More serious conditions may result in higher premiums, as the premiums often depend on the severity of the condition (as well as factors like age and lifestyle). That being said, even if your condition is mild, it is still really important to let your insurer know about it. Knowing that you have a condition that will affect the price of your monthly premiums might make it tempting to not be completely honest whilst applying for cover. This is not a good idea though, as your application needs to be 100% truthful in order for your cover to be valid. If you withhold information or lie during your application, your loved ones could have their claim denied (if you have already passed away) or you could be denied coverage from your current insurer and become unable to get covered by other insurers too.

If you're really worried about not being able to get cover, seek advice from an experienced broker. There are some policies that guarantee acceptance, and some insurers that specialise in covering individuals who have found it hard to get cover elsewhere. Read more about guaranteed acceptance life cover (otherwise known as Over 50's life cover) later in this article.
Life insurance with cancer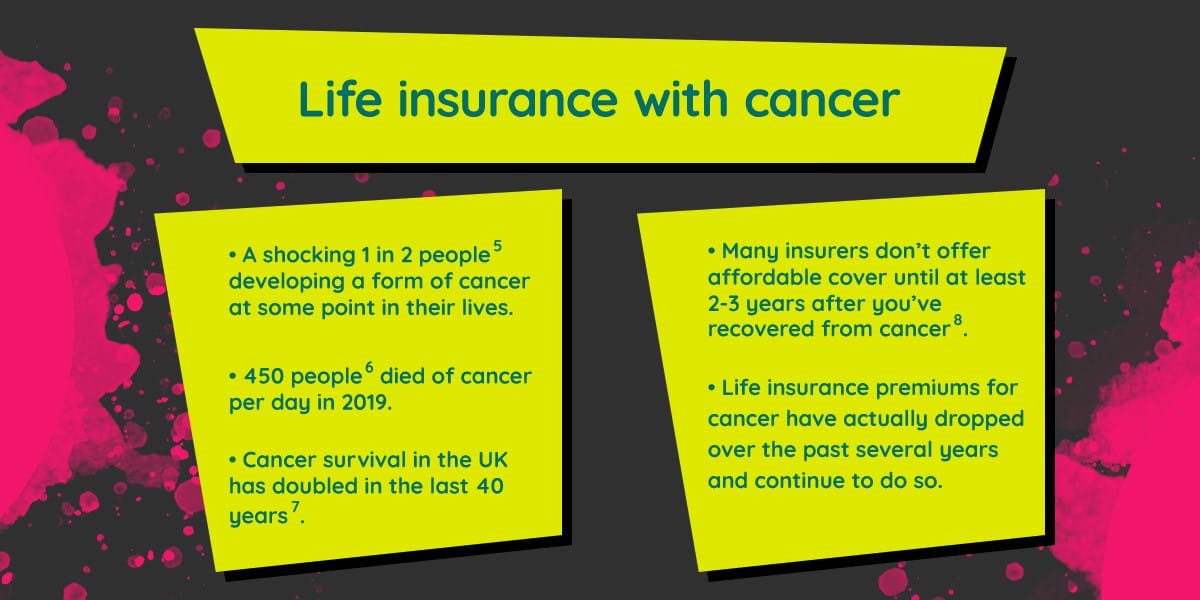 Unfortunately, cancer is one of the most common serious conditions in the world, with a shocking 1 in 2 people5 developing a form of cancer at some point in their lives. With 450 people6 dying of cancer per day in 2019, it's natural to want cover against such a common disease.

However, whilst cancer survival in the UK has doubled in the last 40 years7, cancer or a history of cancer may still make getting insurance a little tricky. The type and stage of your cancer will largely affect whether or not a policy is available to you, and the terms of that cover (including the price of your premiums). Many insurers don't offer affordable cover until at least 2-3 years after you've recovered from cancer. In order to get coverage, you may need to have a medical exam or to provide the insurer with medical reports.

The good news is that life insurance premiums for cancer have actually dropped over the past several years and continue to do so, due to medical advances and decreases in mortality levels. Being so common, cancer is something that the life insurance industry has had to learn to deal with. It's not a niche issue that they can afford to simply turn these higher risk applicants away for. However, many insurers will view things on a case by case basis.

If you have been declined by other insurance companies in the past, don't let that put you off. Speak to us at LifeSearch - we have experience in dealing with applicants with pre-existing medical conditions, such as cancer, and we know which providers to turn to.

If you're over the age of 50, you might be in luck as an over 50's policy could work for you. The plus-point with these plans is that they offer guaranteed acceptance without medical examinations - so a cancer diagnosis will not be a factor.
How do life insurance companies check medical background?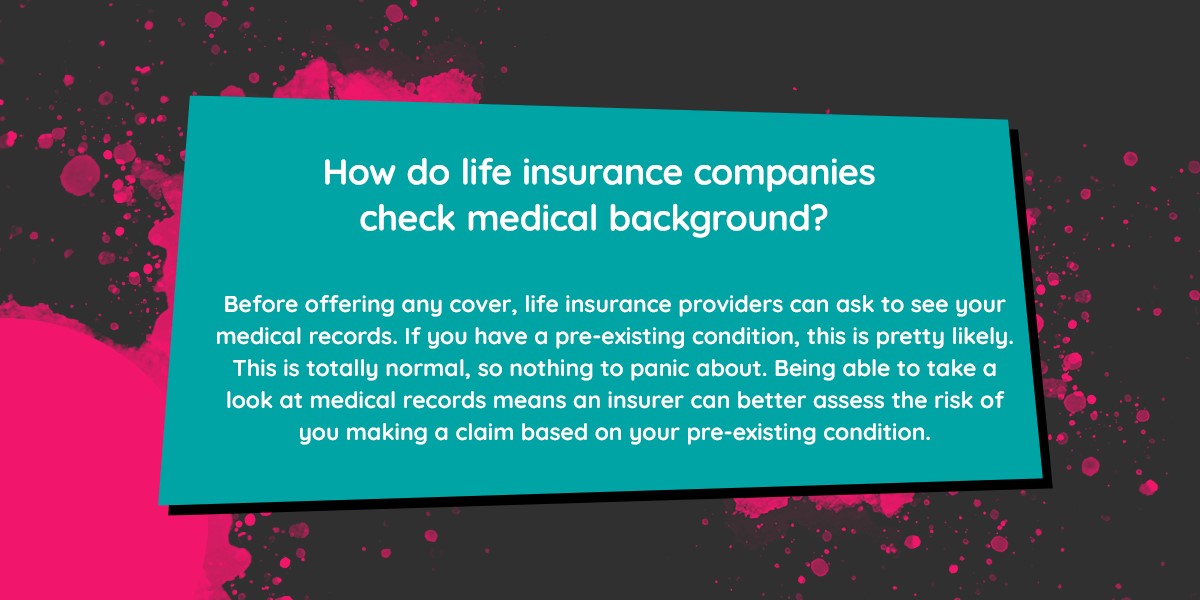 Before offering any cover, life insurance providers can ask for a report detailing the relevant parts of your medical record. If you have a pre-existing condition, this is pretty likely. This is totally normal, so nothing to panic about. Being able to take a look at certain parts of your medical records means an insurer can better assess the risk of you making a claim based on your pre-existing condition.

If your pre-existing condition is mild, providing your medical records can be a positive thing. On the other hand, it can also wind up making your policy premiums more expensive, or result in you being refused cover (or being offered cover with your condition excluded). Either way, it's super important to be honest about your condition.

It's important to note that you can refuse access to your medical records, but often this will result in your application being refused.

Here's how your records will be checked:
The insurer will ask for your written consent. If you agree, your doctor will provide the records that are relevant for your insurance application.
It's possible that your insurer will request a report detailing the relevant parts of your medical records. This will be provided by your GP.
You will then be able to see the report before it is sent over to your insurer. You can ask for it to be changed if you disagree with any of the contents, but your GP can refuse to make this change. If this happens, you can request that a statement of your objections is sent with your medical records for the insurer to see.
How to pass a life insurance medical exam
Sadly, there isn't a nifty trick we can let you in on that means you'll pass a medical exam with flying colours. It sounds obvious, but in the long term, the best way to pass is simply to live a healthy lifestyle. We don't mean adopting a diet of nothing but green veggies and a gruelling exercise regime - just look after yourself. Take control of what you can by cutting down on sugar, ciggies, and booze, and try and exercise regularly. Encouraging your immediate family to do the same could also help your chances.

Immediately prior to the exam, you should try and get a good night's sleep. You could also try and avoid caffeine, alcohol and high impact physical activity in the handful of days beforehand. Whilst this won't make you look like a star athlete, if you're actually a bit of a couch potato, every little can help.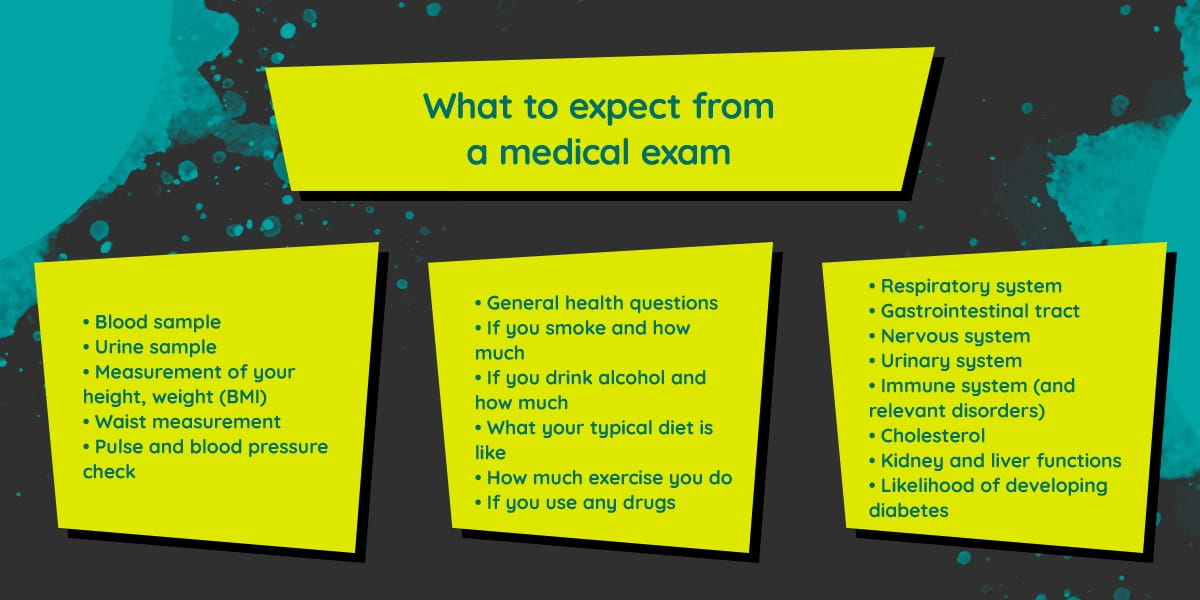 Here's what you might be able to expect of a standard life insurance medical check:
Blood sample
Urine sample
Measurement of your height, weight (BMI)
Waist measurement
Pulse and blood pressure check
You may be asked:
General health questions
If you smoke and how much
If you drink alcohol and how much
What your typical diet is like
How much exercise you do
If you use any drugs
It's also possible that your insurer will send a questionnaire to your GP to fill in that asks for information about your:
Respiratory system
Gastrointestinal tract
Nervous system
Urinary system
Immune system (and relevant disorders)
Cholesterol
Kidney and liver functions
Likelihood of developing diabetes
Life insurance with no medical exam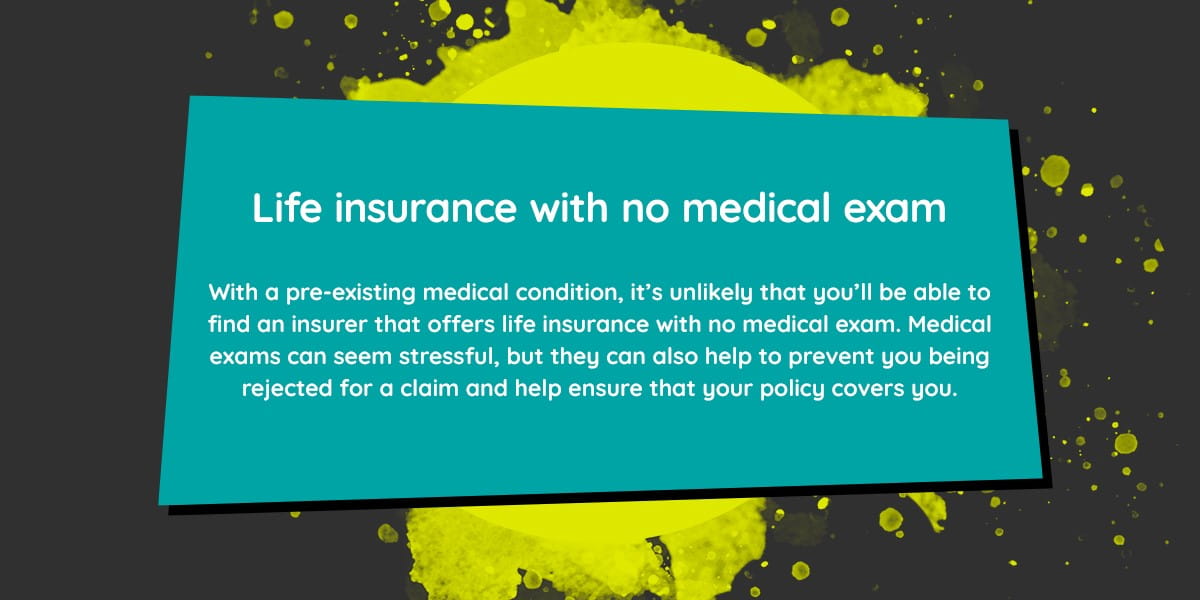 With a pre-existing medical condition, it's unlikely that you'll be able to find an insurer that offers life insurance with no medical exam. Medical exams can seem stressful, but they can also help to prevent you being rejected for a claim and help ensure that your policy covers you. Even though a medical exam may result in higher premiums, it is important to be totally honest - warts and all! You don't want your loved ones to be left without a payout, so it's vital that the information you provide is accurate.

However, if you're over 50, you can apply for Over 50's cover, which you don't need to complete a medical exam for.
What is Over 50's life cover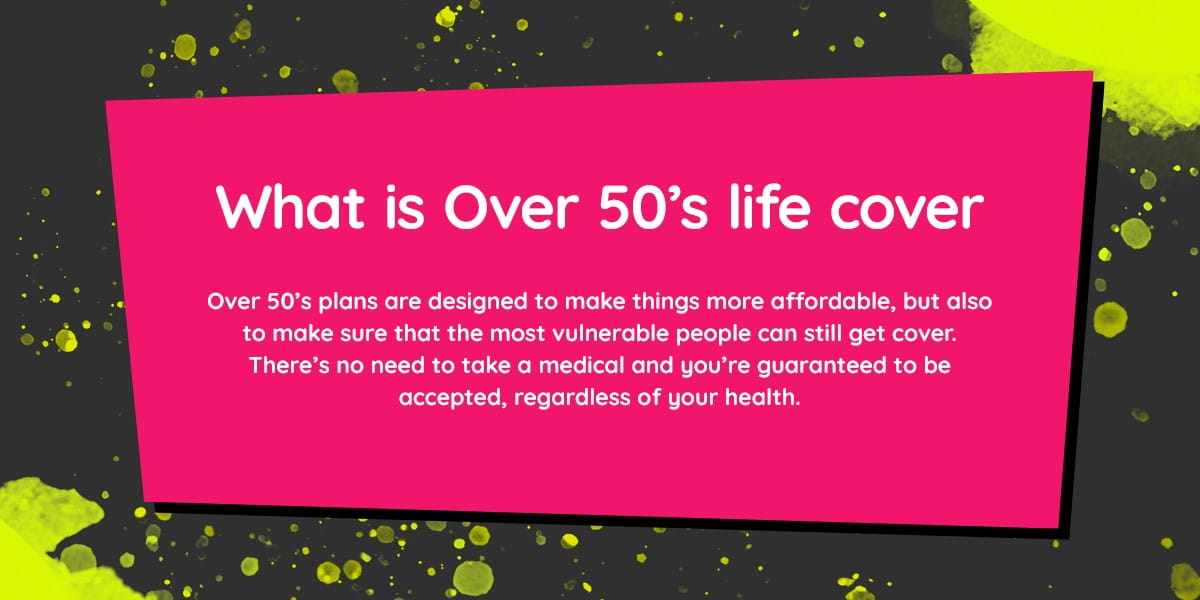 In the UK, long term medical conditions affect around four million9 older people. With our rising life expectancies, this number could rise to seven million10 by 2030. That's a lot of over 50's with pre-existing conditions and possibly no insurance.

If you took out a whole of life policy when you were in your 20s and then developed a condition that is covered by your insurance, you're still quids in. However, if you had a term policy that has since ended, or you've never had a policy at all, then as an older person with a pre-existing condition, you might struggle to find affordable coverage. Life insurance costs rise with age. Add in a medical condition, and your premiums could potentially be sent sky high.

This is where Over 50's cover comes in. Over 50's plans are designed to make things more affordable, but also to make sure that the most vulnerable people can still get cover. There's no need to take a medical and you're guaranteed to be accepted, regardless of your health.

Prices for Over 50's cover are usually a little higher than standard life insurance prices, because your insurer will inevitably have to pay out sooner or later. This is because Over 50's cover doesn't have a time limit, and as long as you keep paying your premiums (usually up to the age of 85 or 90, although the age will vary for each insurer) you'll receive a pay out. Once you hit the grand old age of 90 you'll no longer have to pay premiums, but you'll still receive a pay out once you pass away. There may also be some options where you can pay higher premiums throughout the term in order to get a fixed end date. This means you will stop paying premiums, but your cover will continue.

Whilst Over 50's cover is a great option for many people, it's worth remembering that if you take this out as soon as you turn 50 and then do not pass away for another 40 years, you may end up paying out more in premiums than you receive in your pay out.

Most insurance providers pay out a fixed amount, decided when you buy the policy, no matter when you pass away. There's usually a period of a few months to a year at the start of the policy where you'll only receive an amount equivalent to what you've already paid in, but after that, you'll receive the whole amount. Whilst the amount of your pay out will depend on your policy, the average payout is usually over £4,000, according to Sunlife.

So, if you bought a policy when you were 50 years old that gave you £10,000 as a pay out, and you paid a monthly premium of £25 for this, then by the time you were 83 years old, you'd have paid more in premiums than you'd get as a pay out. Buying the right policy for you at a good rate should prevent this happening - but if you're lucky enough to live for a long time, it's a possibility.

The price of the monthly premiums is based on your circumstances so there's no one-size-fits-all price, but with your medical history not taken into account, there aren't so many factors in play. Your premium prices will largely depend on the amount of cover that you choose, and your age. The older you are, and the higher your amount of cover, the more expensive your premiums will be. Over 50's options are slightly more limited than options for other life insurance products as less insurers offer these guaranteed acceptance policies. However, with a little shopping around you should be able to find the right policy for you.

Read more about Over 50's cover here11.
So, what next?
If you have pre-existing medical conditions or a serious illness in your family, it's always worth contacting us at LifeSearch so that we can try and find you a life insurance quote that works for you. We know exactly where to look, and we might just find a policy that works.

There are some lenders out there who specialise in covering high-risk people who may struggle to take out cover with medical questions. Although these lenders won't assess you based on your medical history, they don't always offer particularly good value for money on their policies.

If you are in need of some help getting cover, whether you are old or young, get in touch with us. It's what we're here for. We believe that everyone deserves to protect the life they love, and we work tirelessly to make that happen. Contact our friendly team of experts on 0800 316 7253.
References
1 - https://www.england.nhs.uk/blog/making-the-case-for-the-personalised-approach/
2 - https://www.england.nhs.uk/blog/making-the-case-for-the-personalised-approach/
3 - https://moneytothemasses.com/quick-savings/insurance-2/life-insurance/best-life-insurance-with-pre-existing-medical-conditions
4 - https://moneytothemasses.com/quick-savings/insurance-2/life-insurance/best-life-insurance-with-pre-existing-medical-conditions
5 - https://www.cancerresearchuk.org/sites/default/files/state_of_the_nation_april_2019.pdf
6 - https://www.lifeline24.co.uk/medical-conditions/
7 - https://www.cancerresearchuk.org/health-professional/cancer-statistics/incidence#:~:text=There%20are%20around%20367%2C000%20new,UK%20is%20diagnosed%20with%20cancer
8 - https://www.macmillan.org.uk/cancer-information-and-support/impacts-of-cancer/insurance-and-cancer/types-of-insurance
9 - https://www.lifeline24.co.uk/medical-conditions/
10 - https://www.lifeline24.co.uk/medical-conditions/
11 - /about-us/lifesearch-blog/life-insurance-without-medical-questions