How can we help you find your perfect cover?
4.9 out of 5
Is life insurance worth it?
10 Nov 2020
We know that our money is precious to us - it might not be able to buy happiness, but financial security is nothing to sniff at. That's why once you've been paid your hard-earned pennies, they can be a bit difficult to part with. There are things we have to drop money on, like food and bills and car insurance, but there are expenditures that fall by the wayside in our rush to save money or splash it on the stuff we really want.

Life insurance is one of these expenditures. It's not mandatory, and whilst it's true that if you've got a healthy chunk of money squirreled away for a rainy day it might not even seem like something you need, if you've got any financial responsibilities or dependents then it's actually really important to consider. For many, it's not seen as necessary, with only 30% [1] of women and 31% [1] of men currently covered by a life insurance policy. That leaves 8.5 million without life insurance [2].

With 45% of millennials saying that they're always worried about their finances, 23% worried about their mortality, and 33% constantly worried about their employment,[3] it seems odd that the percentages of people who have invested in life insurance don't quite match up. Of course, a life insurance product can't buy you the privilege of never being nervous about anything, but it can definitely ease your mind when it comes to financial worries if you were to fall ill or pass away.

If you are concerned it'll be a waste of your hard-earned pennies, then let's look at a few statistics. In 2018 [2] alone, 189,000 customers received compensation from life protection policies, with a grand total of £5.3 billion paid out and the average policy paying out £28,000. If you think you could put this amount or more away into savings over the course of your life, then it might not seem like something you'd want to shell out for.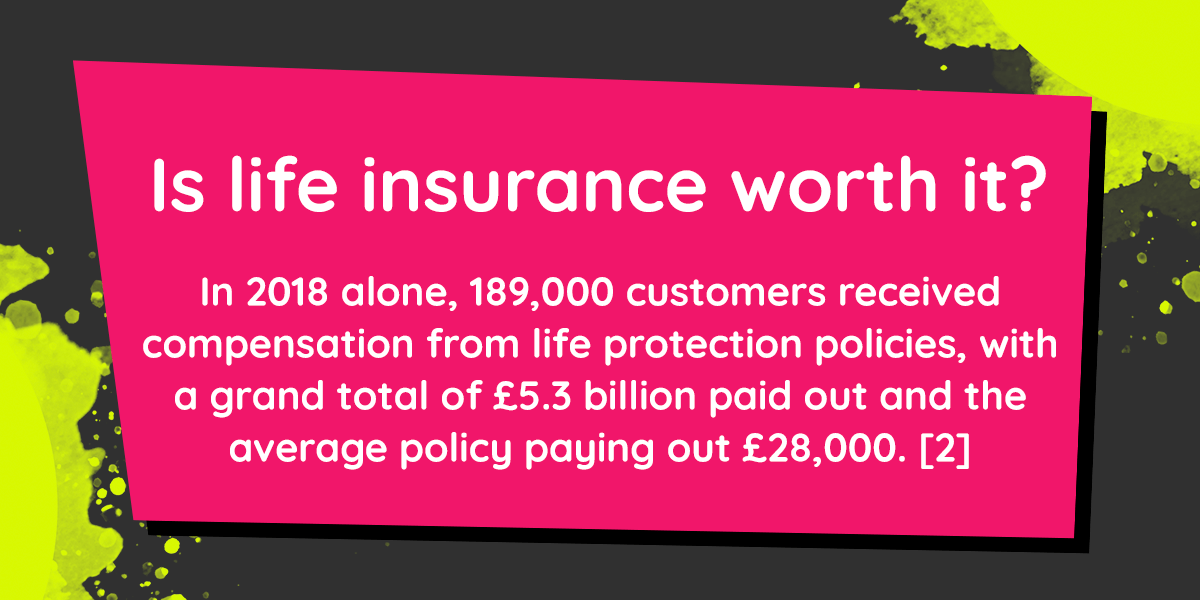 However, it's important to remember that if you buy a standard whole of life or term life insurance product, you'll receive the full amount you're insured for. If you take out your insurance and then pass away 2 years later, you'll receive the same amount as you would if you had lived for another 20 years. The Coronavirus pandemic has taught us that anything can happen at any point, and just because you might be young and healthy it doesn't mean we're exempt from what the world throws at us.
So… Is life insurance worth it?
If you don't have anyone depending on you for financial support, it's easy to think that there wouldn't be any financial implications if you were to pass away. Even if you have a mortgage, your house can just be sold on to pay it off, right?

Whilst this isn't necessarily incorrect - and without kids or a partner depending on your income you might feel like life insurance is a waste of your money - remember that the average cost of dying in 2020 is £9,493. [4] This means your loved ones would be left with these costs after you're gone. Even if they don't rely on you for money, protecting your loved ones from financial issues after you've passed away is a great way to shield them in an otherwise difficult time.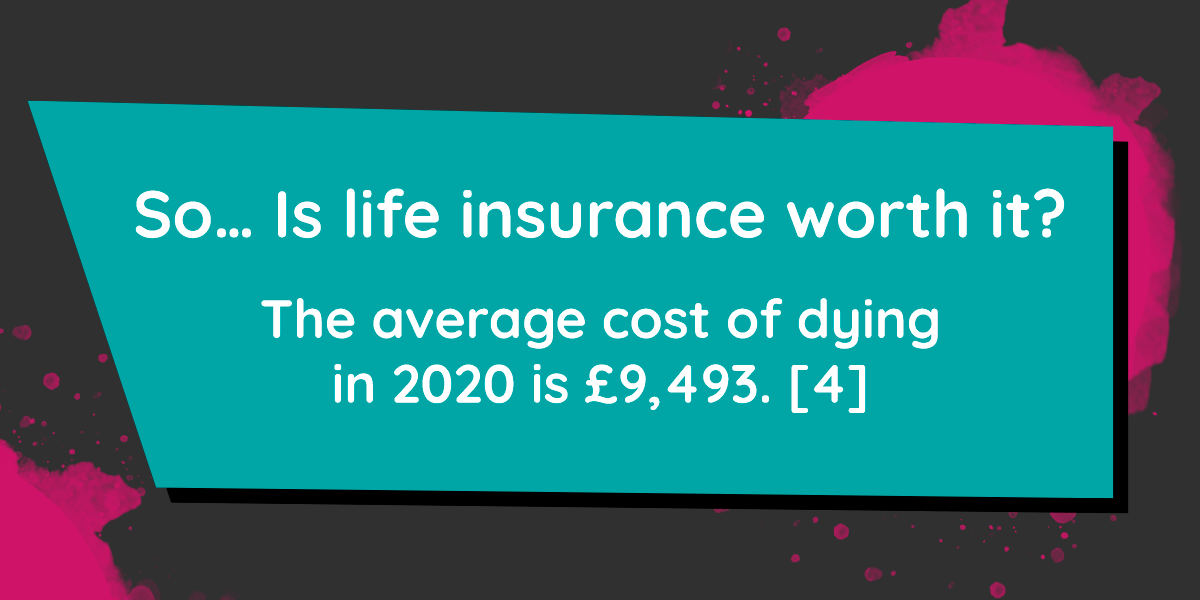 No one is invincible. No one likes to think about dying, but it's one of the only things that we can guarantee happens to everyone. If you want to protect the people you love and provide for them even when you're not around, taking out life insurance is the ultimate superhero move.

In terms of value for money, it tends to be cheaper to buy life insurance when you're young and healthy, but there are options for everyone that can make life protection products affordable without compromising too heavily on the level of cover. Getting life insurance whilst you're young gets you the lowest possible price which won't go up - and you can add on coverage to suit you as your situation changes.
What is the average life insurance cost per month?
Without evaluating your individual circumstances, it's almost impossible to tell you how much you'd have to pay per month. With so many different variables - from your age, your lifestyle, and your health to the amount of cover you'd like - and with so many different providers, the cost can vary hugely. There's no one-size-fits-solution that will be perfect for everybody, but life insurance doesn't have to be expensive to be good. For most people, life insurance is very affordable when bought wisely.

For instance, if you're in your mid/late twenties, in decent health, with a low-risk lifestyle, it's possible for you to get around £100,000 for around £10 a month. Having said this, there are people of different ages and lifestyles who may not be able to get that level of cover for around £10 a month. On the flip side, there are many people that pay for the most comprehensive cover possible and pay much more per month.


"For 21 year olds, the average life insurance policy would be between £10-£15. When you're between 30 and 40, you're probably looking at £40 a month and upwards. Between the ages of 18 to 28, prices are massively different. There are big jumps between age brackets; the most notable is probably when you hit 40.
A 40 year old's premium is probably double that of a 20 year old. Although we've covered the basic costs here, all premiums are medically underwritten so it's a sliding scale before it gets locked in."
[Let's Start Talking Report 2019]
Do you get your money back at the end of term life insurance?
Say you bought comprehensive insurance for your car, and then never had to make a claim on it. You wouldn't view that as money wasted, right? You'd view that as a necessary protection for your investments, so you don't have to shell out a big lump sum should they be damaged.

When you purchase term life insurance (vs. whole of life, which only ends when you die) you set a date for your coverage to end, and pay premiums every month to ensure you keep that coverage. Unlike whole of life insurance, which is guaranteed to payout (unless you die in a way that isn't covered by your insurance provider) you're not guaranteed a payout from term life insurance. You may outlive your coverage. It's there to protect you against an untimely death whilst you and your income are still vital to your family (for instance, whilst paying off your mortgage).

Once the term is completed, your coverage ends and you don't receive a payout, but this money shouldn't be thought of as a waste. It bought you peace of mind and protection for your family at a time when they needed it most. To add to this, when you pay your life insurance premiums they basically go into a large communal bucket (managed by your provider) which then goes towards paying off other claims. With many individuals putting money towards this, it allows providers to aid other families and individuals in need of financial support.

However, if you're worried about out-living your policy, you can discuss extending your cover with your provider, or even consider Over 50's Life Cover if you're old enough. Over 50's life cover makes cover more affordable for people over 50, and you're guaranteed to be accepted for this kind of policy.
Do I need life insurance if I'm single?
You may be asking yourself, "I'm single, why would I need life insurance?" And it's true - if you've got no one financially relying on you then you might well wonder what the use of that payout would be. However, life insurance isn't just there to replace your salary after you're gone - it can be used to protect your loved ones from being burdened with the costs that arise from your death, and any debts you might have.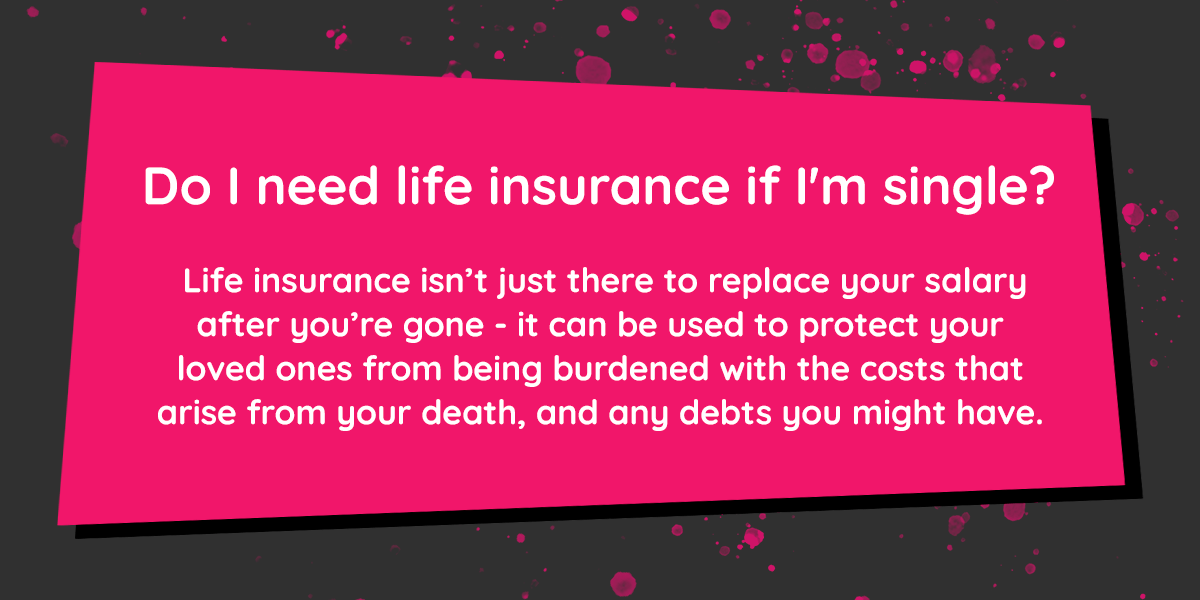 Here are some examples of the ways a life insurance policy can help you even if you're single.
Settling your mortgage
If your mortgage isn't paid up when you pass away, your life insurance can help the people you leave behind to settle the mortgage so they don't lose the house. Without a life insurance policy or savings, your mortgage lender can seek repayment from the mortgage from your estate. If there's not enough value there to square away the debt, the property is often sold to settle the difference. Whilst this is happening, interest will still be accruing on your mortgage and your loved ones may also be subject to interest charges.


Settling debts and loans
Your mortgage may not be the only loan you've taken out or debt standing against your name. For instance, you may have unsecured loans, credit cards that aren't paid off, or a financed car. These would also be repaid from your estate, so a life insurance pay out can help ensure debts are covered too.


Funeral costs
With the average cost of death rising over £9000 in 2020, and a basic funeral now just under £5000 [4], it's safe to say that dying is expensive. It sounds like a weird joke, but it's true. Without a life insurance policy to help your family cover these costs, that can be a pretty big drain on your loved ones in an already difficult time.


Inheritances
If you're a bit strapped for cash, leaving your loved ones an inheritance might not be the first thing on your mind. However, with a life insurance policy, it's possible that you could leave them something that could impact them for the rest of their lives, or ensure that they can keep things you already own (like your home).

If you want to set up a life insurance policy with the intention of leaving your loved ones an inheritance, you should consider writing your policy in trust so that your loved ones don't have to worry about Inheritance Tax. Read more about that
here
.
"But what about single parents?" we hear you cry. Not every single person is unattached, it's true. However, being a single person with children just adds to the reasons you should consider life insurance. The financial difficulties facing single parents are considerable, but how much worse would they be if you take away that parent? Life insurance quotes for mums and dads take only a few minutes of your time and can help ensure financial security for your children and the people who will take care of them after you're gone.
Life insurance for mums / dads
Children are expensive. Child Poverty Action Group [6] found in 2019 that the cost of raising a child to 18 costs £151,000 for two-parent households (and a staggering £185,000 for single parents households). Just clothing a child up to adulthood costs, on average, around £16,000, not even including shoes. According to the Office of National Statistics, [5] the average spend for a household in the UK is more than £500.

On top of clothes, food, travel, school supplies, healthcare, and childcare costs, many families also have mortgages or rent to pay. Some families do it on one salary whilst one parent stays at home, but with 71% of mums [6] working whilst raising kids, many families rely on two salaries. If something were to happen to you or your partner, would you be able to survive on just one salary? Bear in mind that the costs of child-rearing are likely to rise by more than £30,000! A life insurance payout can help make sure that you can stay on top of the costs of running a family home, and also deal with the mortgage or rent, plus any debts or unsecured loans.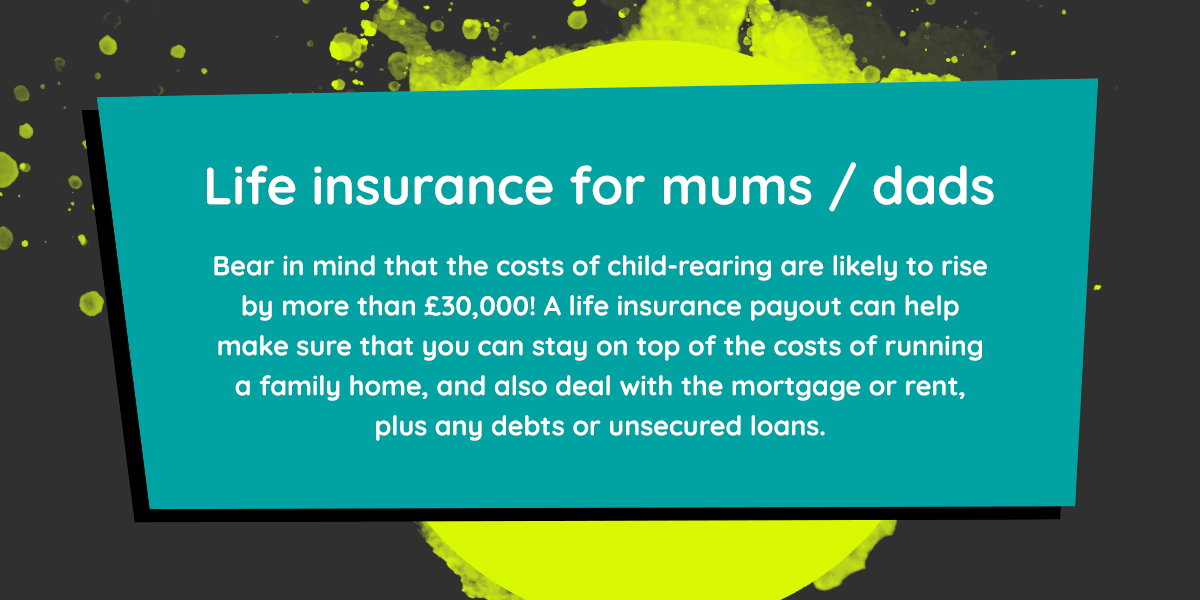 Nowadays, with families often having two breadwinners, it's even more likely that both parents will need to be covered. You have two options available - two single life policies or a joint life policy.
Joint life insurance policy
When you come to buy your life insurance, there are many options to choose from. Do you go for term life insurance or whole of life? Do you go for other types of cover, like critical illness cover, family income benefit or income protection? These are options an insurance advisor can help break down for you, but one question we are frequently asked is whether you can get joint protection for two or more people on one policy.

A joint policy is possible, but there are some things to consider before taking one out: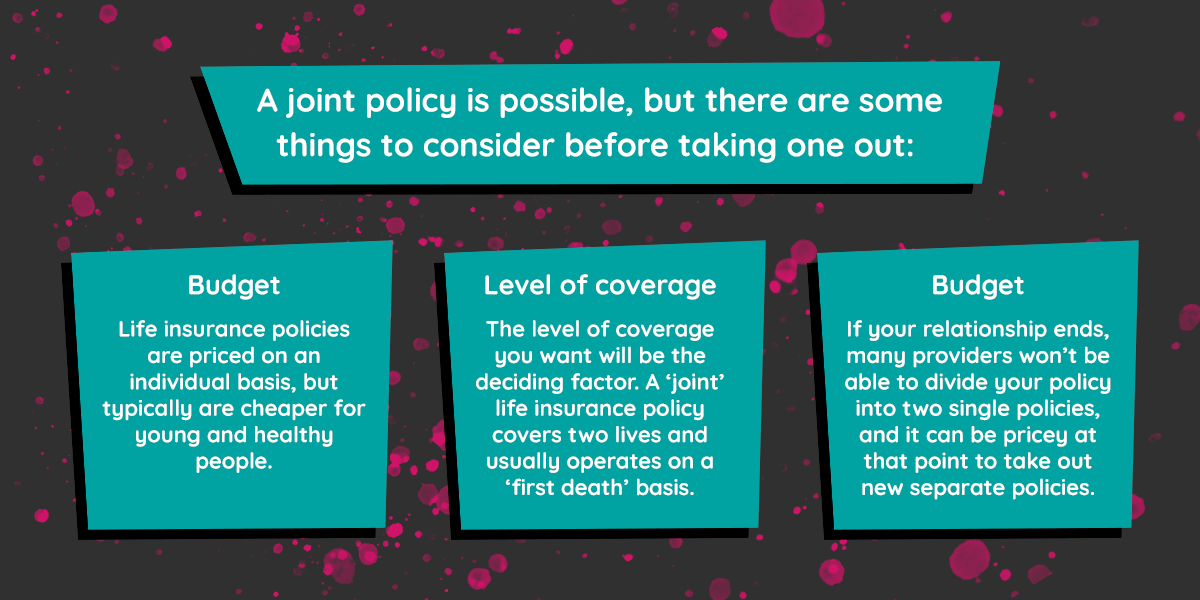 Budget
Life insurance policies are priced on an individual basis, but typically are cheaper for young and healthy people. A joint policy is usually cheaper than two separate policies but is likely to be priced based on the older 'more expensive' partner. However, if you're on a tight budget but want both partners covered, it could be a good option for you.


Level of coverage
The level of coverage you want will be the deciding factor. A 'joint' life insurance policy covers two lives and usually operates on a 'first death' basis. This means that the chosen amount of cover is paid out when the first person dies, during the length of the policy term. At this point, the policy would end. The surviving partner would then not have cover under that policy. If the worst were to happen and both policy owners were to pass away (in a car accident, for example) then those left behind would only receive one payout. If this would be enough, then a joint policy could still work for you. If not, then it's worth considering investing in two single policies.


Your relationship
If your relationship ends, many providers won't be able to divide your policy into two single policies, and it can be pricey at that point to take out new separate policies. Say you take out a joint policy with a partner when you're 23, and then the relationship ends when you're in your late 30s. Taking out a new single policy will be far more expensive than it would have been in your early 20s.
What should I consider when choosing my level of cover?
Ultimately, all your questions about term or whole of life cover, single or joint policies and different types of cover will be answered when you figure out what you want to be covered for. The two most important things to think about when figuring out what life insurance policy works best for you are:
The length of time you want to be covered for
The amount of money you want to be covered for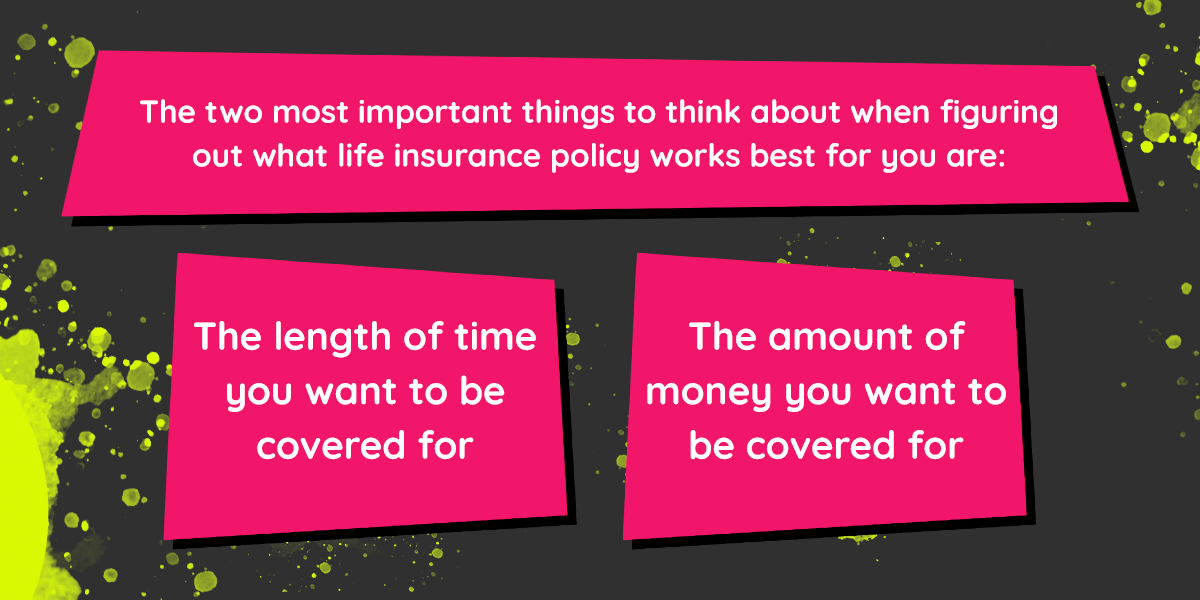 Let's say for example that you have a £250,000 mortgage and a £5,000 car loan. If you're the main breadwinner you may want to make sure these debts are covered. You'll probably need at least £255,000 in your policy to cover these debts unless you have any savings you're happy to use.

Remember that most providers will allow you to alter the terms of your policy over time as your situation changes, so whilst choosing wisely is important, you'll have a policy that will grow with you. Going through an experienced advisor and broker can help you a lot with this.

Here at LifeSearch, we're experts in helping people find the right type of cover for their situation. We can guide you through every step of choosing your life insurance policy, to ensure you've got cover that, well, covers you!

Get in touch with us on 0800 316 7253 to choose your perfect policy today.
References
[1] https://www.lifesearch.com/reports/health-wealth-happiness-2019
[2] https://www.finder.com/uk/life-insurance-statistics
[3] https://www.lifesearch.com/reports/lets-start-talking
[4] https://www.sunlife.co.uk/funeral-costs
[5] https://www.compassfostering.com/raise-a-child-cost-uk
[6] https://www.verywellfamily.com/research-stay-at-home-moms-4047911