How can we help you find your perfect cover?
4.9 out of 5
Income protection for trades
23 Oct 2020
Think about it - the nature of a tradesperson's job means that they are at much higher risk of physical injury than someone who works an office job in a comfy desk chair from 9-5. With the current pandemic, many of these office-based people have the ability to work from home, which is a luxury many tradespeople don't have. This puts the pressure on tradespeople to get back out there and earn money at the first opportunity.

Even though the country is slowly returning to work, Coronavirus is still very much a threat on top of the risks tradespeople naturally face. With many tradespeople forced to go out to work and be exposed to the virus (or go without pay), they might find themselves falling ill and once again being unable to earn money.

Presently, the lay of the land around cover for COVID-19 for income protection and life insurance policies is not a straightforward one - so if you're concerned about the impact of COVID-19 on existing and new policies, please click here to visit our 'Coronavirus and Protection' page or call us on 0800 316 7253 and talk to one of our advisors.

You need to be fit and healthy in order to earn money. If you can't earn, what would you do? We did a little digging [1] to find out just how much people worry about their finances. We found that:
45% of millennials admitted money was a concern
20% of people aged 55+ admitted money was a concern
Millennials worry more about their health than any other age group, with 36% admitting it's a big concern
Despite this, just 26% of millennials said that they have savings in place to fall back on
50% of over 55's have savings in place to fall back on, leaving the other 50% without savings
No one is invincible. It's not fun to think about, but illness or injury can strike anyone at any time. The
two most common reasons
[2]
for sickness absence in 2018 were minor illnesses such as coughs and colds and musculoskeletal problems. Although skilled tradespeople had the
second to lowest absence rate
[3]
by occupation group in 2018, could this be because they feel they can't afford to take time out when they are unwell?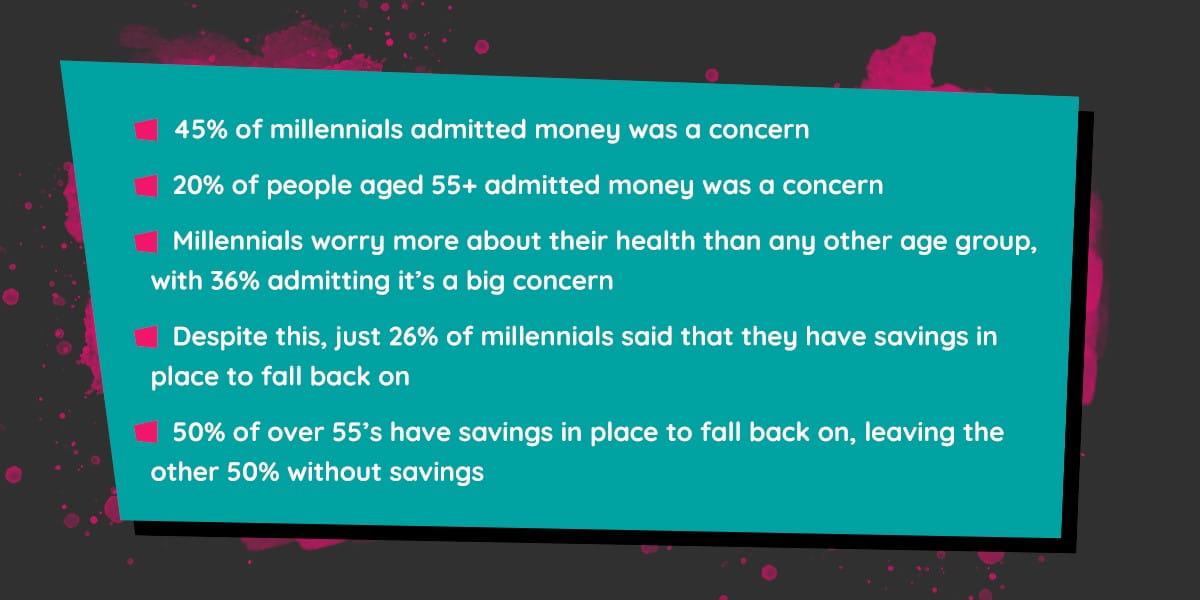 Can you get sick pay if you are self-employed?
Statutory Sick Pay (SSP) is a legal entitlement for those who are employed, earn on average at least £120 per week (before tax) and are sick for four full days or more in a row. This includes part-time or fixed-term contracts. The standard rate for SSP is
£95.85 a week
and this is only paid for up to 28 weeks.
However, you won't be covered by SSP if you are self-employed or run your own business (as many tradespeople do.) Being your own boss is a wonderful feeling, but it can also come with its fair share of financial stress and uncertainty - especially in the midst of the global pandemic we're currently faced with.
Yes, you can work around appointments and make all of the decisions when you are self-employed, but it's the financial safety nets like SSP, maternity pay, holiday pay and pension contributions that you give up.
Of course, not all tradespeople are self-employed and many may be eligible for SSP, but at £95.85 a week it might not be enough to cover your needs anyway. Self-employed or not, it's a good idea to have an insurance policy in place to fall back on, such as
income protection
.
How does income protection work?
Income protection protects your salary if you can't go out to work anymore due to injury or illness. It replaces a percentage of your income (usually between 50-70%) until either you are declared able to work again, your policy expires, you retire or you pass away. You can claim on an income protection policy as often as you need to until the policy comes to an end.
When taking out a policy, you decide on a deferral period. This is a pre-agreed period of time in between making your claim and receiving your payout. The longer the deferral period is, the cheaper your monthly premiums are likely to be. If your deferral period is three months, that's three months when you are going to need money to fall back on whilst you're out of work, so it's really important to factor this in.
Do I need income protection insurance?
Income protection is important for all workers - but it is especially important for tradespeople. A large amount of income protection claims are made for musculoskeletal accidents and fractures each year and due to the physical nature of the job, tradespeople are naturally amongst the most at risk of this sort of injury.
Risk comes with part of the job description, sometimes working on building sites or in unstable environments. We're talking being hit by falling objects, stepping on sharp materials, electrocution, and burns - to name but a few. Even something as simple (but equally as horrible) as a back injury can make it much more difficult to return to work than if you were office based.
If you do have to temporarily put the brakes on your working life, chances are you'll want to be back up and at it as soon as possible so that you can continue to earn those pennies. You will probably still have the burden of bills to pay hanging over you, such as staff wages, rent and utilities. Income protection relieves that financial pressure and gives you peace of mind that you'll be able to cover your costs for as long as you need, so that you can concentrate on fighting fit once again.
If you're still unsure whether you actually need income protection insurance, ask yourself these three key questions. If you were unable to work due to serious illness or injury:
Would you be able to rely on your partner or someone else in your household to be the sole earner whilst you recover?
Do you have a family member that can lend you money if you can't work?
Do you have savings that you can fall back on, and do you have enough?
If you do have savings, then that is a great start. However, when you don't know how long exactly you will be out of work, not knowing if you have enough money to see you through could well be another source of stress and worry.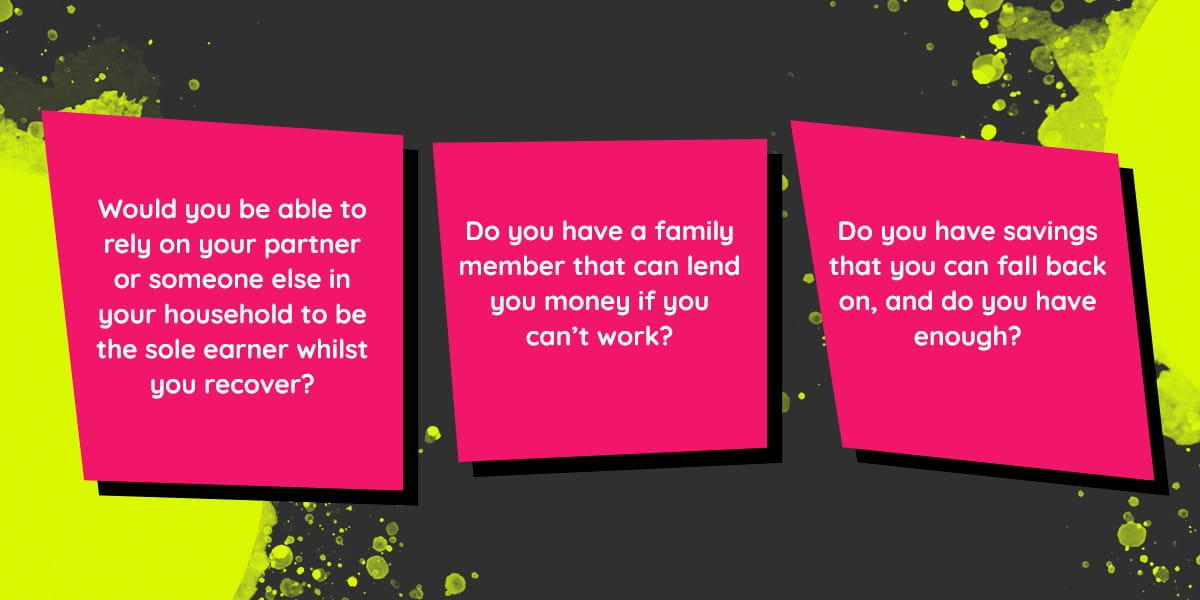 And yes, whilst you might be saving some pennies whilst you're at home bed bound and not travelling to and from work, socialising and eating out, there will be other costs that come with being at home all day that you might not have considered - most of which will be evident after the Coronavirus lockdown!

For instance, you'll be eating more meals at home, so your weekly food shop costs may increase. Netflix and other TV subscriptions are likely to become a big part of your daily routine, so perhaps you'll want to sign up to a few of those if you haven't already and upgrade your broadband allowance. Utility bills such as heating and water might also naturally increase. It's important to consider the bigger picture as not working is likely to affect almost every aspect of your life.
Can the self-employed get income protection?
You're more likely to be off work sick than you are to pass away before retirement, so this is arguably the most essential and underrated cover available for any working person, but especially the self-employed. Income protection really should be factored in as part of your business plan so that you and your family can still get by day-to-day without your income.
When you're self-employed, you'll know that your income is not fixed. Whilst you might assume that this is a barrier when taking out income protection, you'll be pleased to hear that it's not. When taking out an income protection policy, your monthly income is simply based on your share of the pre-tax profits generated by your business.
The amount of cover that you'll need when self-employed might be more than if you were employed as you'll have business outgoings to consider such as perhaps a mortgage or rent on a commercial property, staff wages and commercial vehicle costs. If you're not too sure how much cover to take out, a life insurance broker such as us here at
LifeSearch
will be able to offer all the advice you need.
How much does income protection cost?
The good news is that income protection will not break the bank. However, like most insurance products, the cost of income protection differs from person to person. Your monthly premiums will be calculated based on a number of factors including:
Your age
Your marital status
Whether you smoke or have previously smoked
Lifestyle (such as whether you have any high risk hobbies like extreme sports)
Health (your current health, your weight and your family medical history)
Your job
The deferral period you decide on
How much income you'd like to receive each month
When deciding how much cover you need, consider your day-to-day living costs, any debts that you are paying off and your monthly mortgage/rent payments.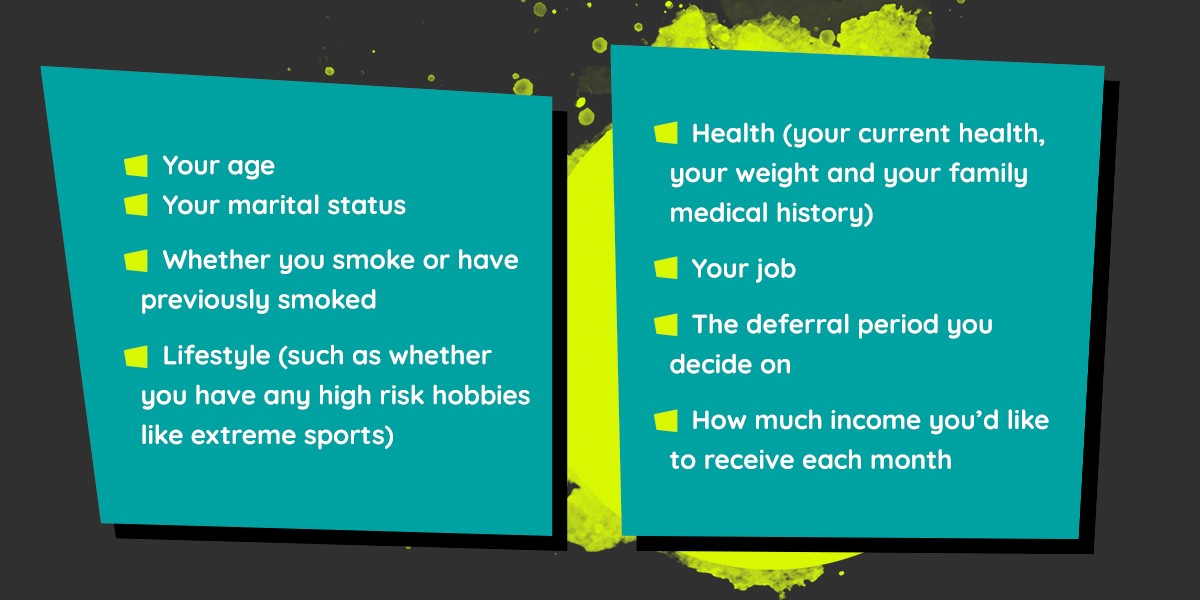 So, how much does an income protection policy actually cost [4]? Although it differs from person to person, we can give you some ballpark figures to work with. Here's a few examples:
A 21 year old female non-smoker would generally be looking at a policy costing between £8-20 per month (depending on the term), based on a 3 month deferral period, £750 to be paid tax free each month and covering up to the age of 68 [4]
A 32 year old male non-smoker would generally be looking at a policy costing between £14-35 per month (depending on the term) with a one month deferral period, £1000 to be paid tax free each month and covering up to the age of 68 [4]
A 45 year old male non-smoker would generally be looking at a policy costing between £20-70 per month (depending on the term) with a 12 month deferral period, £1,500 to be paid tax free each month and covering up to the age of 67 [4]
A 56 year old female non-smoker would generally be looking at a policy costing between £30-75 per month (depending on the term) with a 6 month deferral period, £1,200 to be paid tax free each month and covering her up to the age of 67 [4]
Generally speaking, the younger you are the less you'll pay each month in premiums, so it's always worth taking out an income protection policy earlier on in life, even if you feel as though you are at lower risk of becoming seriously ill. You'll have nailed a low price which will never go up. From there, you can add to your policy as and when you need to. For instance, you may want to increase your payout amount when you get a mortgage to ensure that should you need to claim, your policy will cover that cost.
Is income protection tax deductible?
Many business owners may be wondering whether they can expense their income protection premiums through their business. When you take out an income protection policy, you can choose either to pay for it as an individual, or via your limited company.
If you pay for it as an individual, it will come out of your income post-tax. You can however get an executive income protection policy, which is an allowable business expense, and is therefore tax-deductible for your business.
If you make a claim on your executive policy, you will have to pay tax on the income protection payments that you start receiving. If however, you have an individually funded policy then this is not the case, as income protection payments in this instance are tax-free.
When you rely on your health for your work and your work for your livelihood, surely that's reason enough to protect yourself and your family? As a tradesperson, being off sick or injured is potentially more problematic than people in some other occupations - especially when self-employed.
Although we've given you a general overview in this article and explained some choices to meet varying needs, we recommend that you discuss your requirements with an expert adviser. LifeSearch offer fee-free expert advice, and we can recommend the perfect cover, based on your individual needs.
For more than 20 years, we've been providing life insurance policies to people in all areas of work, from all walks of life - and today we're still at it. We only choose the best policies from the best insurers, which means you get the best cover. We're always here to answer questions, give fee-free advice and walk alongside you if you need to make a claim, so
give us a shout
and let's get to know each other.
Give us a call on 0800 316 7253 and we will help you out.
References:
[1]
/Reports/Lets-Start-Talking
[2]
https://www.personneltoday.com/hr/sickness-absence-2017-record-low/
[3]
Office for National Statistics - Sickness Absence Rates 2018
[4]
/About-Us/LifeSearch-Blog/Average-cost-of-income-protection