How can we help you find your perfect cover?
4.9 out of 5
Christmas Hacks
1 Dec 2019
Make your own Christmas fireplace:
Want your own festive fireplace but don't have a chimney? Make your own - it's simple!
1. Collect some cardboard boxes, ideally the same size. Oh and please be green and re-use your Black Friday and/or Amazon leftovers. You'll need five large rectangular boxes for a good sized fireplace. Tape up each box so they're fully constructed and closed.
2. Tape two boxes together, long end to long end. Do this again with two more so that you have two towers.
3. Stand the two towers next to each other with a space in the middle and tape the remaining box in between the towers at one end. You're basically making an upside down "u" shape.
4. Now the messy bit - the brick work. Depending on your art and craft abilities, you could paint this on with poster paints, make red brick shapes from paper and stick them on in a wall pattern, or you can get some brick-effect wallpaper from a DIY shop. Whatever your method, all that's left is to paint/ stick/ cover the boxes.
5. Your fireplace is almost ready. All's that's left is to decorate it with stockings, treats and tinsel. Screwed up brown paper bags and a bit of paint (or sweetie wrappers) make a good fake fire to sit in the bottom – or you could fill it with wrapped up gifts.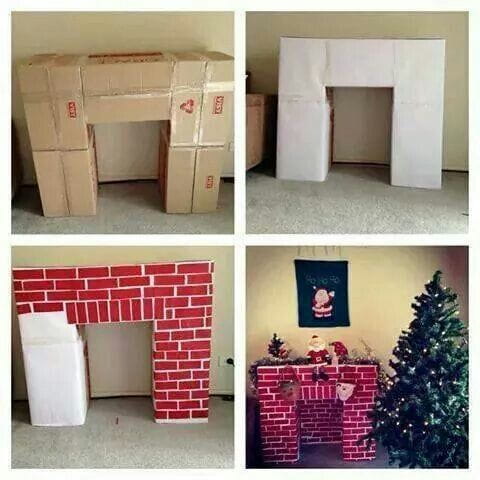 Snowman Stirrers:
1. Simple, sweet arts and crafts for kids (and adults) everywhere. This is a guide for one, but much more fun to make loads!
2. Skewer three or four marshmallows on a stick and line them up. Keep them all white - or mix up colours and get creative. Grease the stick with vegetable oil to make this part easier.
3. Microwave a pile of chocolate chips in a microwave-safe bowl for 90 seconds. Stir and continue to microwave at 15 second intervals until the chocolate is fully melted. Keep to short blasts so you don't burn the choc!
4. Carefully pour the melted chocolate into a decorating bag (a plastic sandwich bag's fine) and snip a small hole a quarter inch from the tip. Pipe on two eyes, a mouth and arms.
5. Melt some orange candy melts (exactly the same technique as the chocolate chips) and pipe on a carrot nose and then leave it all to set. If you'd rather not pipe on arms then stick matchmakers or pretzel sticks into the sides of the middle marshmallow.
Now it's time to get super creative - strawberry laces for hair, buttons for buttons and peanut butter cup hats. No limits – only sweet, sweet Christmas treats!